Pour commencer, voici quelques nouvelles de la première vague d'expérimentation (à revoir ici et là).
To begin with, here's some news of the first wave of experiment (I showed here and there).
Par commodité je vous les mets côté à côte, mais cliquez dessus pour les voir en plus grand.
To make it easier, I put them all side by side, but you can click on each to see them bigger.
En voici un qui a bien changé et dont le résultat me plaît énormément :
Here's one that changed a lot since, and now I love it!
N°16 step 1 N°16 step 4
voici ce qu'il donnerait / here's what it could look like :
Un autre qui a pas mal évolué aussi; mais à mon avis, il n'est pas encore fini :
This other one has changed a lot too, but I don't think it's finished yet
N°18 step 1 N°18 step 4
Et puis j'ai fait une deuxième séance comme la première, en n'utilisant pour commencer que de l'encre de chine, de l'acrylique blanche et noire et un crayon graphite.
Then I made another series of experiment just like the first one, using only Indian ink, black and white acrylic paint, and some graphite.
Certains ont été retravaillés, un peu, beaucoup, et d'autres pas du tout. Le seront-ils? Aucune idée.
Some have been worked upon, some have been left untouched. Will they remain like that? I haven't got a clue.
N°35 step 1 N° 35 step 2
peut-être fini / maybe finished.
N°36 step 1 N° 36 step 2
Pas fini / not finished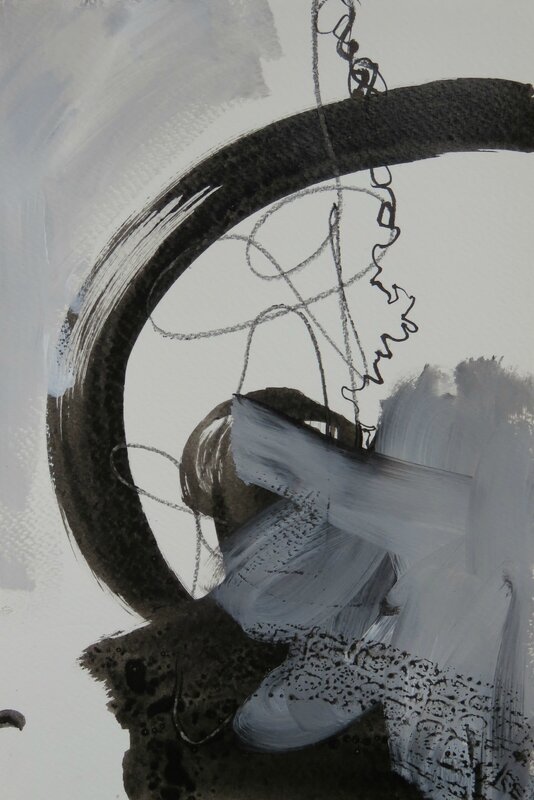 N°37 step 1
N°38 step 1 N°38 step 2
Pas fini / not finished
J'aime ces couleurs, mais je ne sais pas encore où il va aller / I love these colours, but I don't know what's going to happen.
N°39 step 1
N°40 step 1 N°40 step 2
Pas fini / not finished
N°41 step 1 N°41 step 2
Fini je pense / I think it's finished
Un petit aperçu / a little peek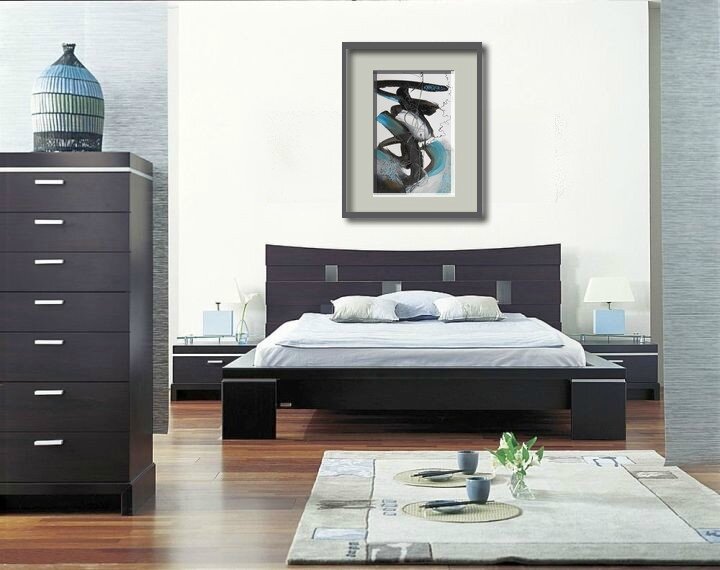 N°42 step 1
N°43 step 1 N°43 step 2
peut-être fini / maybe finished
et pour finir celui-ci qui a été complètement transformé
And to finish, here's one that's benn TOTALLY transformed:
N°44 step 1 N°44 step 2
... et qui me plaît beaucoup. / ... and I love it.
J'aime les teintes et l'effet patchwork.
I love the colours and the patchwork effect.
J'ai cette fois-ci utilisé des collages, de la peinture acrylique, de l'encre de chine, et des pastels aquarellables.
This time I used collages, acrylic paint, indian ink, and watersoluble crayons.
Voici pour vous donner une idée de ce que cela pourrait donner une fois encadré:
here's to give you an idea what it would look like when framed: