Inspiration : pendant les vacances, nous avons fait l'aller-retour Rome-Montpellier en voiture. 10h de trajet pour traverser l'Italie et le sud de la France quand les vignes d'octobre-novembre roussissent, et que les arbres se parent d'or.
Inspiration: during the half term holiday, we drove back to France. A 10-hour drive through Italy then across Southern France with October and November red vineyards and golden yellow trees.
Envie de jaune.
I feel like painting yellow now, only yellow.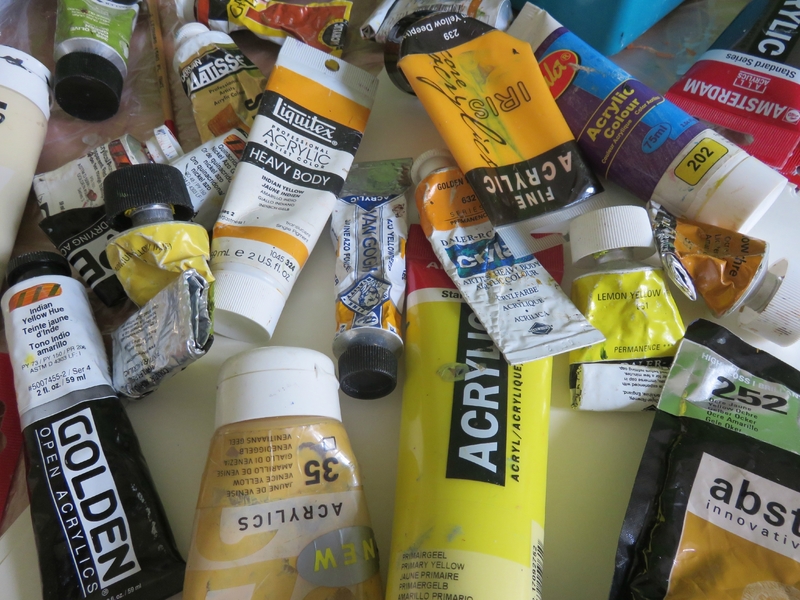 on sort tous les jaunes de la boîte
so let's get all the yellows out of the box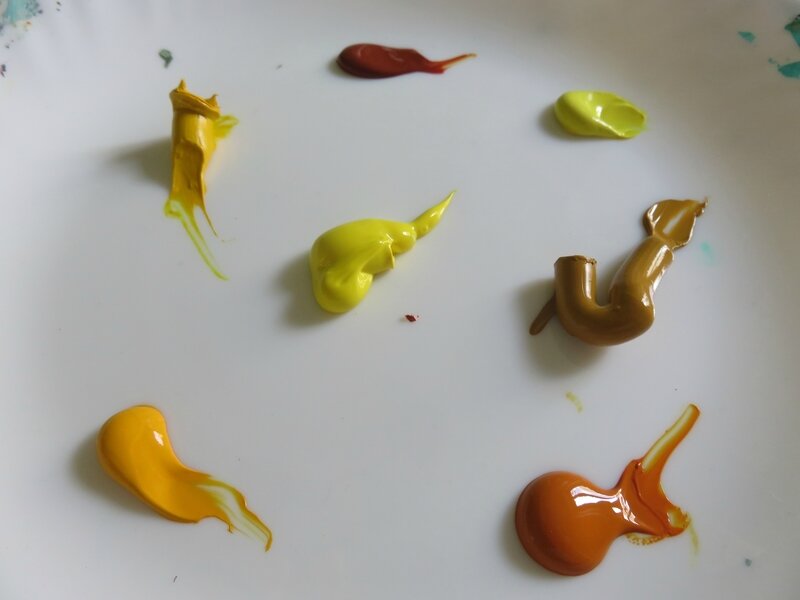 Jaune citron, jaune primaire, jaune Indien, jaune de cadmium, jaune azo foncé, jaune de venise, et j'y ai ajouté ocre jaune et quinacridone gold
Lemon yellow, primary yellow, cadmium yellow, Venice yellow, Azo yellow deep, Indian yellow, and I added Quinacridone gold, Yellow Ochre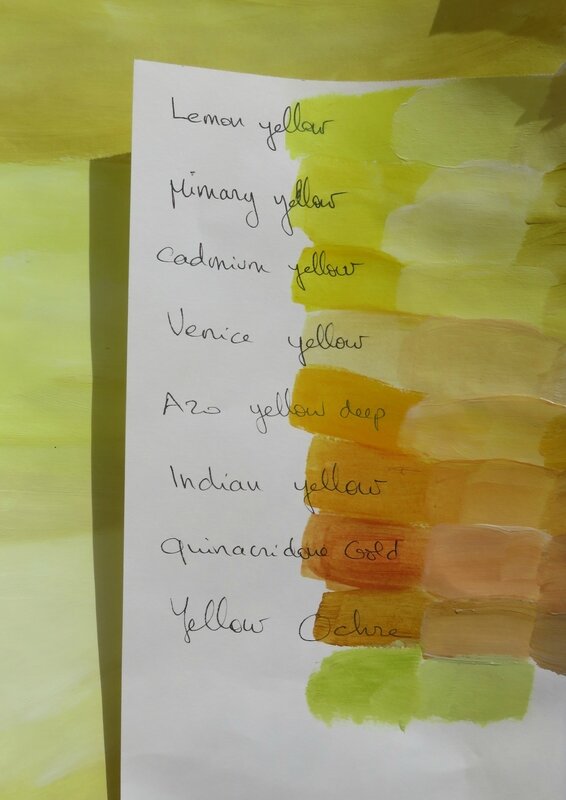 je les mélange successivement à du blanc, du gris, du beige. Le but est de voir toutes les subtiles nuances, parfois très proches, et d'habituer son oeil
I mix them up successively with white, warm grey and buff white. The aim is to see all the subte hues, most of the times very close, and train your eye to distinguish them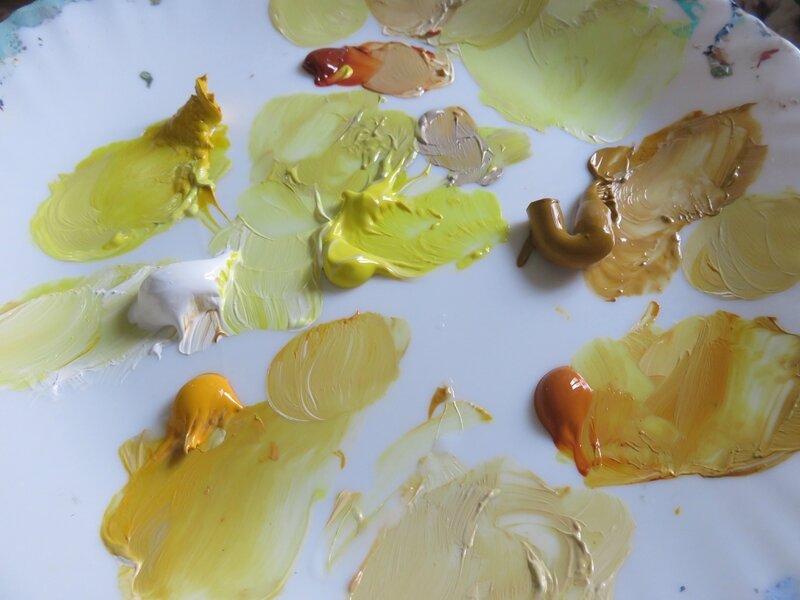 puis je mélange à d'autres couleurs plus fortes: vert olive clair, gris de Payne, vert de Pérylène, ...
then I mix them up with stringer colours: light olive green, Payne's grey, Perylene green, ...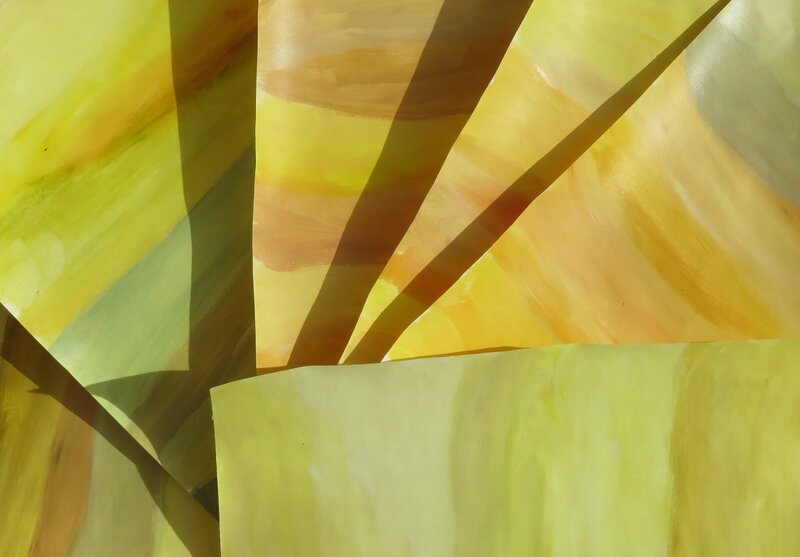 En peignant vos jaunes mettez en rapport les différentes nuances : observer combien un jaune si pâle devient si acidulé quand on le met près d'un jaune éteint. Faites des expériences, tentez les mélanges, et badigeonnez vos feuilles sans réfléchir. Soyez juste au plaisir d'étaler les couleurs les unes à côté des autres.
Put the different hues next to each other: notice how pale yellow becomes vibrant when put next to a dull yellow. Experiment, try mixing unlikely colours, cover your papers without thinking. Just enjoy the pleasure of mixing and painting colours next to one another.
Conseil: Ne faites pas des rayures trop petites (comme moi!!)
Tip: Don't paint small stripes (like I did!)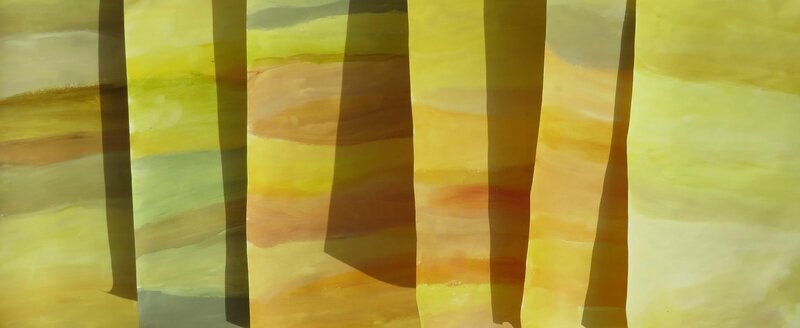 Et cela donnera une série de feuilles avec des dizaines de nuances de jaunes-vert-brun.
And that will give you a stack of papers with tons of yellowish hues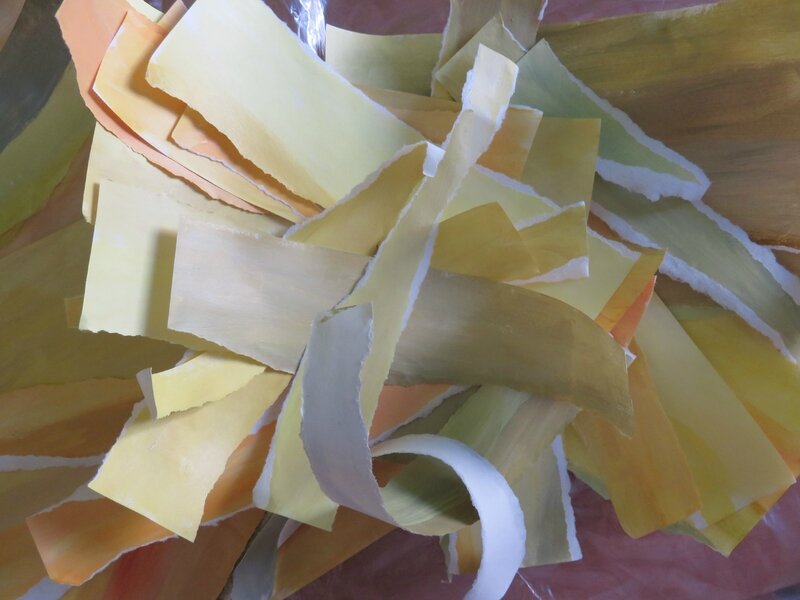 Le lendemain, j'ai découpé ces papiers en bandelettes
The following day I tore them up in stripes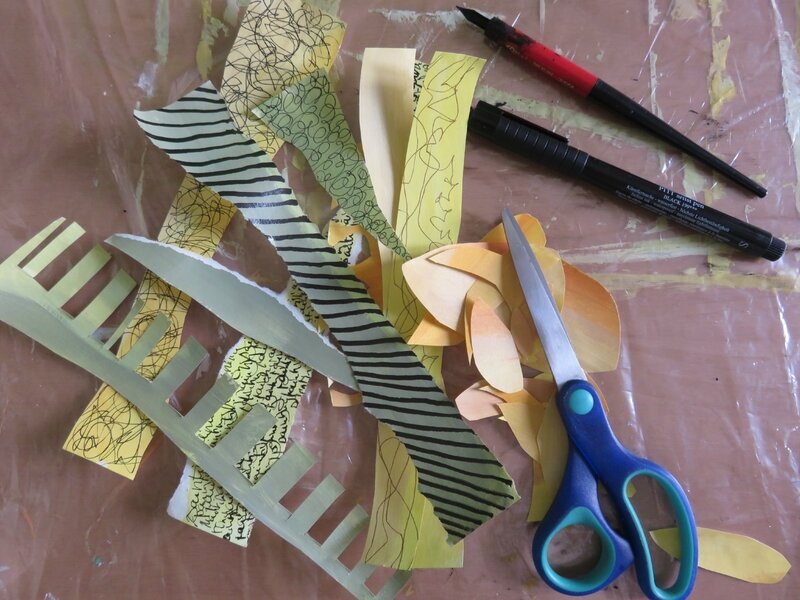 puis j'ai fait des motifs sur certaines bandelettes, découpé d'autres avec diverses formes
then I drew some patterns on some stripes, and cut others in different shapes
j'ai pris 5 feuilles blanches (200g minimum, c'est mieux avec du 300g) et je me suis amusée à faire des collages.
I took five sheets of white paper (200g minimum, better with 300g) to make some collages.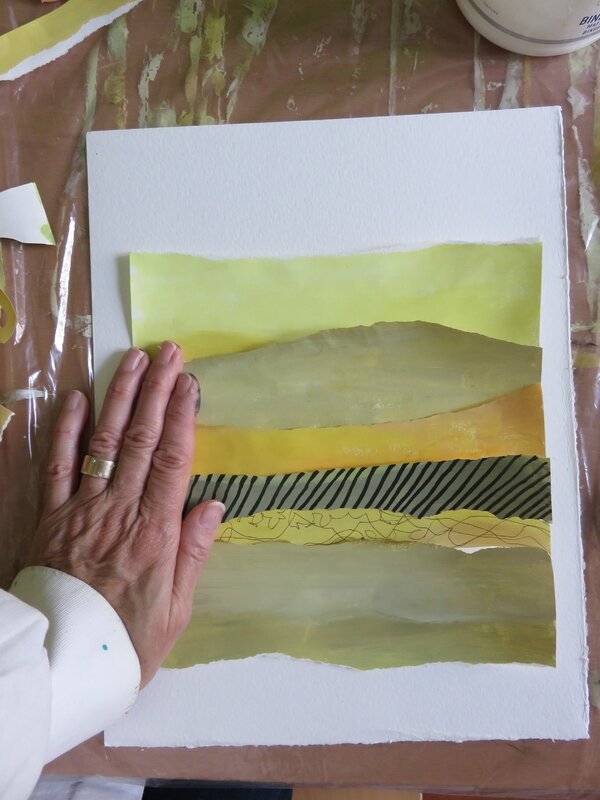 L'avantage du collage c'est qu'on peut avoir très vite et sans rien fixer, une idée de ce que cela peut donner
The good thing about collages is that you can immediately get an idea of what it would look like, without even glueing anything
on peut arranger les bandelletes dans tous les sens.
you can arrange the stripes in different ways.
Je prends souvent des photos pour garder une mémoire de ces compositions qui n'ont pas forcément abouti.
I usually take pictures to keep some memory of the different layout which don't all "happen"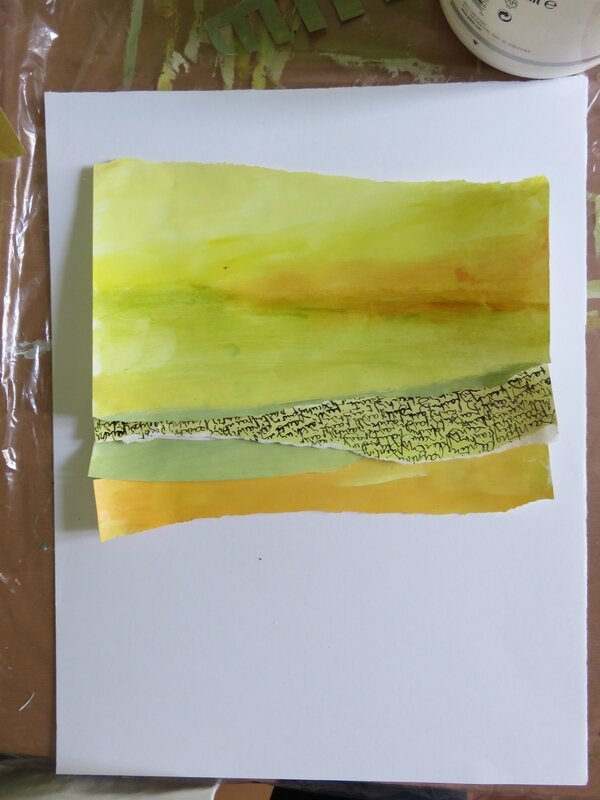 Parfois je pré-arrange une grande série de morceaux puis je colle dans le même ordre
Sometimes I plan a series of stripes in a certain order and then glue them in exactly the same way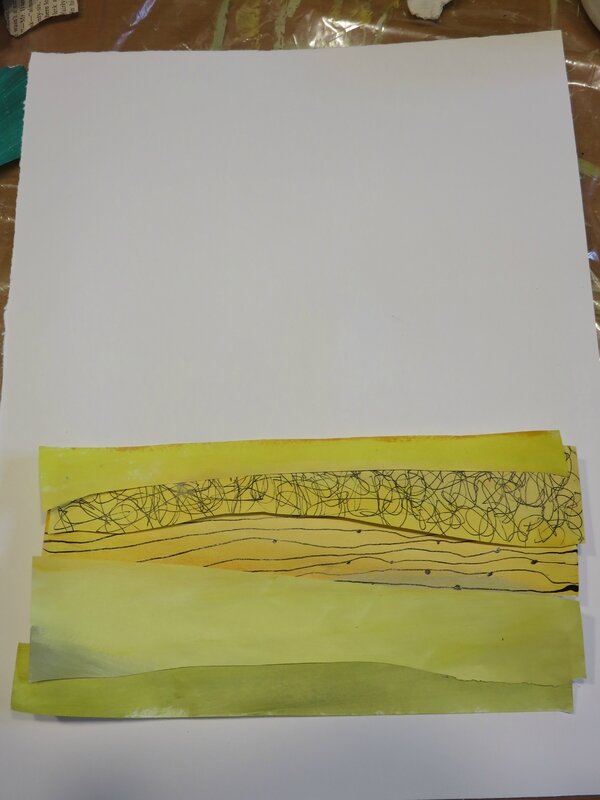 et parfois je colle d'emblée une bande de départ, puis je réfléchis au fur et à mesure à la suivante sans avoir rien prévu
or sometimes I glue the first piece, then think and glue along the way without having planned anything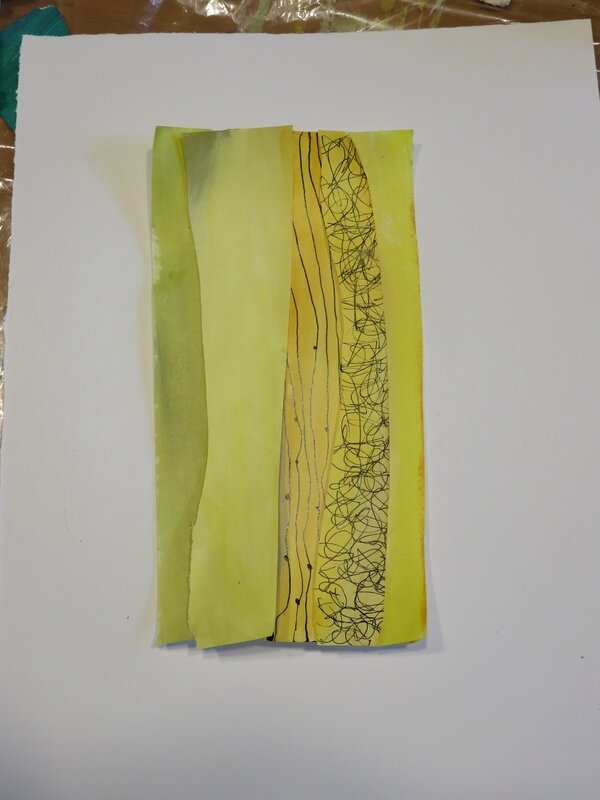 ne pas oublier de changer la feuille de sens, pour voir...
Don't forget to turn the pieces one way and the other, just to see how it looks...
Mais pour cette série, je suis à chaque fois revenue au même sens : feuille portrait, et bandes horizontales.
But for this series, I always came back to the same: white paper portrait, and horizontal stripes.
Et voici ce que cela donne :
And here's what came out: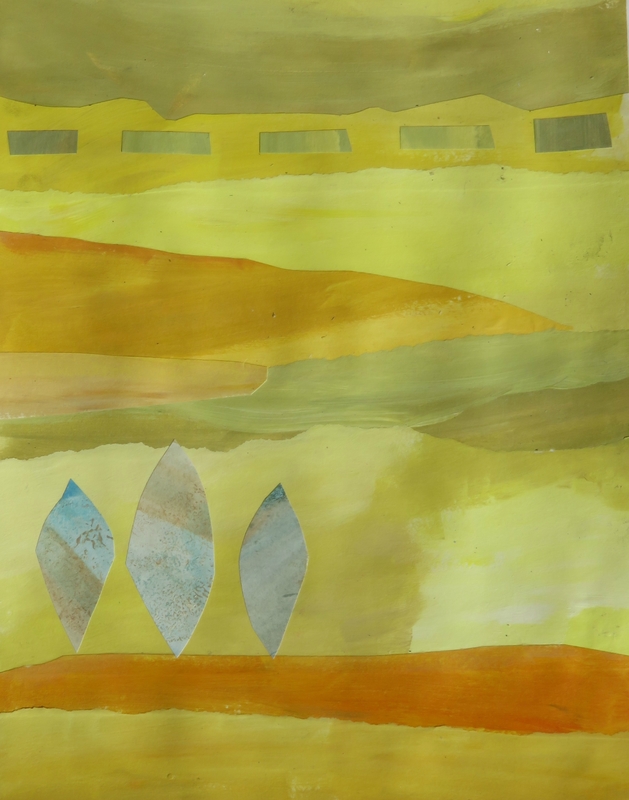 N°156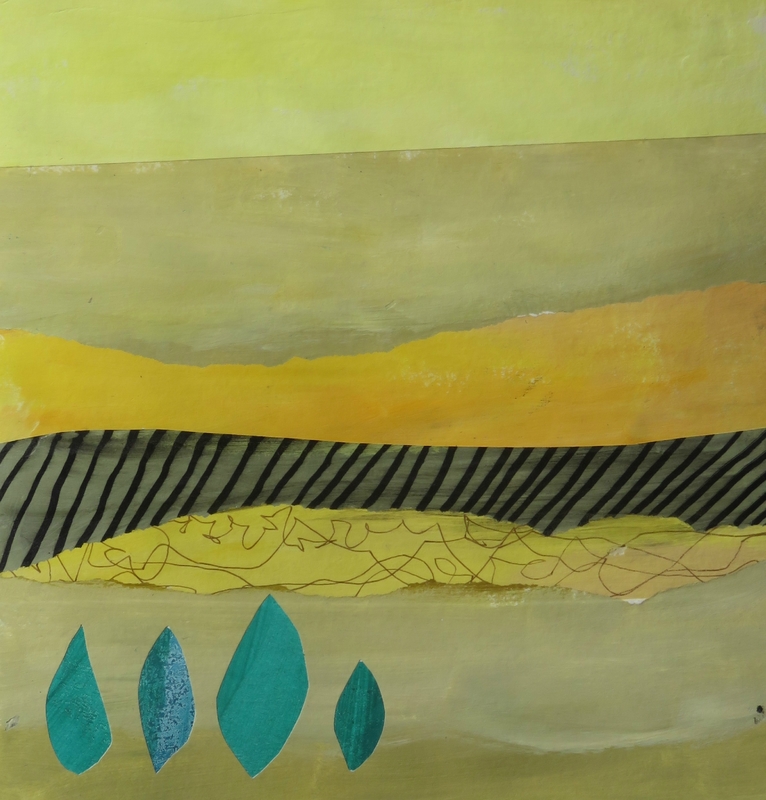 N°157

N°158
N°159 qui n'a pas encore trouvé dans quel sens se poser
which is still not sure which way to be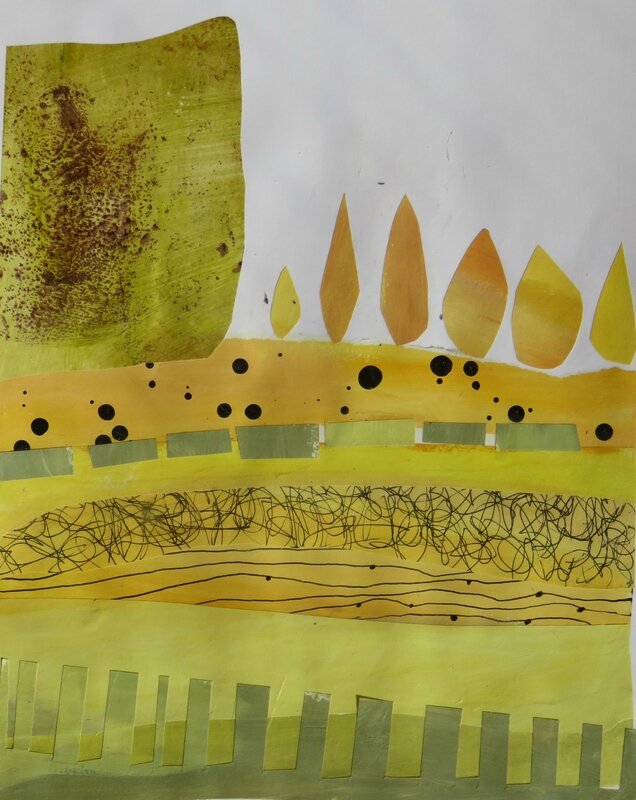 N°160
Ces 5 collages sont encore en cours, je vais les retravailler; mais déjà ces premières moutures me plaisent bien.
These 5 collages are still in progress, I'm going to work on them; but I already like them a lot.
A suivre donc. / To be continued.