J'emmène tous les jours mon fils à l'arrêt de bus, puis je rentre en passant par le marché (mercato Nomentana), via Alessandria. J'y prends mon café et je fais deux, trois courses si nécessaire. Everyday I walk with my son to the bus stop, then I walk back through the market (mercato Nomentana), via Alessandria, I drink my daily cappuccino, and I buy some things if necessary.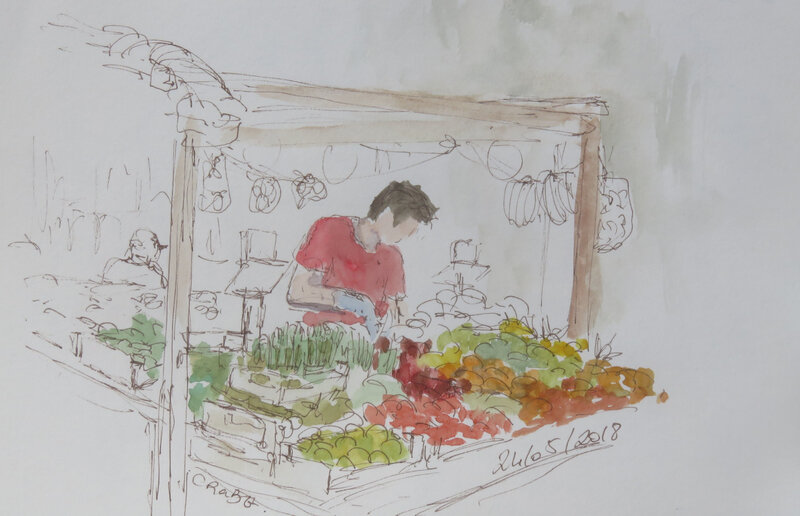 N°107
C'est là où j'achète mes fruits et légumes. Les vendeurs sont sympas. A l'automne, le vendeur m'a demandé de le dessiner avec son étal. C'est chose faite. Et je lui ai donné.
I usually buy my veggies there. The sellers are friendly. Last autumn this guy asked me to sketch him at his stall. Now it's done. I gave it to him.

N°108
Je prends mon cappuccino dans ce petit café dans un coin du marché. C'est marrant, selon si c'est la femme qui le prépare ou son mari, il n'a pas le même goût. Et le prix est imbattable : 0,90€!!! Le croquis n'est pas terrible, il faudra que je le refasse. Mais c'est dur de rendre cette ambiance.
This is where I buy my cappuccino. It's funny how it tastes different whether it's the lady who makes it or her husband. Unbeatable price too: 0,90€!!! The sketch is not much good, I'll have to sketch it again, but it's really tough to sketch the atmosphere of the place.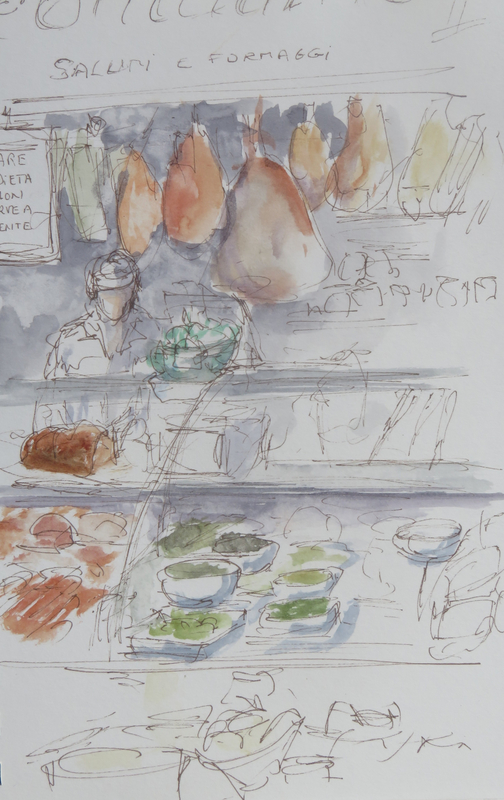 N°109
C'est là que nous prenons notre fromage et la charcuterie. Les olives ne sont pas mal non plus.J'adore le signe qui est accroché en évidence : Fare la dieta non serve a niente / Faire le régime ne sert à rien.
This is where we buy most of our cheese and cured meat. The olives are not bad either. I just love that poster they have hanging there: Fare la dieta non serve a niente / Dieting is useless.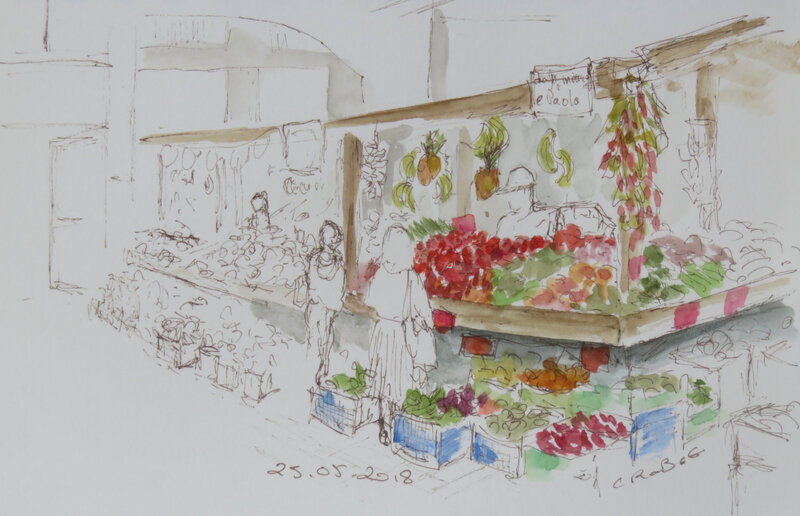 N°110
Ces deux étals de fruits et légumes ont de très beaux produits, mais il y a tout le temps une telle queue!!!
The two greengrocers there have great fruits and veggies, but there's always such a long wait to be served!!

N°111
Et là, je prends du pain, parfois une "pizza rossa" c'est à dire une pizza toute simple avec juste de la tomate. C'est aussi une mini épicerie, avec des pâtes, du riz, quelques boissons, ... mais leur spécialité c'est le pain et les gâteaux/biscuits. C'est la grand mère qui a ouvert un four il y a quelques années. Elle a eu 11 enfants et là c'est une de ses filles qui tient ça avec son fils à elle, pendant que un oncle s'occupe du four. Je crois qu'ils ont aussi une autre mini boulangerie ailleurs dans Rome.
That's where I buy bread, sometimes a "pizza rossa" literally a red pizza, that is a plain pizza. It's also a mini grocery shop selling pasta, rice, a few drinks... but their specialty is bread and pastries/biscuits. The grand mother started up an oven to bake bread and things. She had 11 children and one of her daughters now runs this shop (she works it together with her own son) while one of her sons runs the oven, and I think there's another daughter running another bakery somewhere in Rome. Family business does mean something in Italy.
Si vous voulez voir d'autres croquis du marché cliquez ici.
If you want to see more sketches of the market, you can click here.