Comment se renouveler, trouver de nouvelles idées? Pour ma part, j'observe beaucoup autour de moi et surtout je regarde les oeuvres des autres artistes en me demandant toujours pourquoi j'aime (ou pas) leurs tableaux. J'essaie toujours de mettre des mots sur ce qui me plaît (ou pas) chez les uns ou les autres car cela me permet ainsi de trouver des points communs entre différents artistes/tableaux, et des idées de pistes ou de points à travailler
How do artists find new paths? New ideas? Personally, I'm always noticing things around me and when I look at other artists' works I always ask myself why I like (or don't like) their painting. Putting into words what I do (or don't) like in other paintings helps me realise common points between different artists/paintings, and it gives me ideas.

Par exemple, j'ai remarqué ces derniers mois que je m'arrêtais systématiquement devant des oeuvres dépouillées. C'est ainsi que j'ai décidé, puisque cela me plaisait tant, de travailler le côté épuré.
For example, over the last few months I've realised I was always admiring minimalist works. That's how I decided to declutter my own paintings. If I liked that clean look in others' works, then I just had to do it myself.

Les séries sont affaires de décisions comme celle-ci, mais aussi de hasards.
Then series are then a matter of conscious decisions like this one, but also of chance.
L'autre jour j'ai admiré les oeuvres de Tara Axford ; elle avait utilisé quasiment uniquement des verts et des gris, des couleurs très particulières qui m'ont fait penser à l'ombre d'une forêt.
The other day I was admiring Tara Axford's pieces; she had used mainly greens and greys, the very peculiar colours made me think of the cool shades of a forest.
Le même jour, j'ai regardé une video de Jane Davis qui montrait comment travailler les teintes neutres (ici pour voir la video si ça vous interesse).
The same day, I watched a video where Jane Davis was showing how to make neutral colours ( click here to see the video if you are interested )
En associant les deux, je me suis dit que j'allais travailler mes verts.
Linking the two, I decided I was going to work my greens.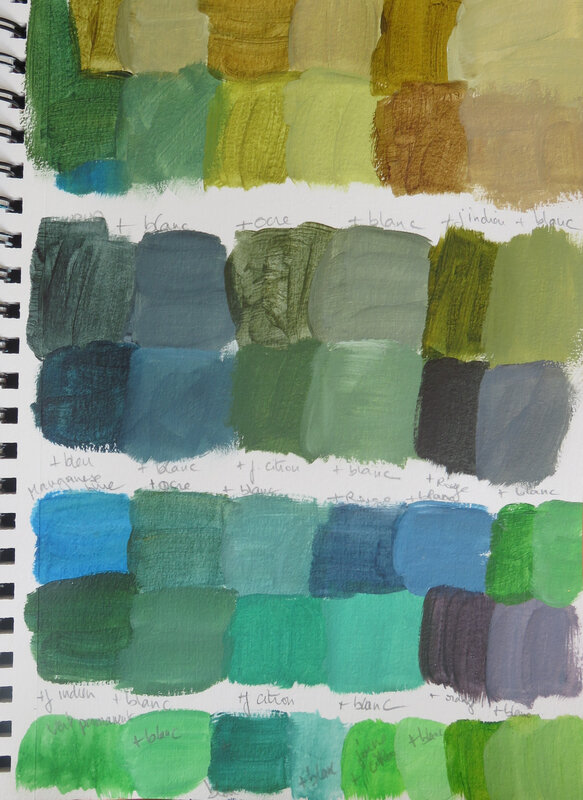 J'ai sorti de ma boîte des verts que j'utilisais peu ou jamais. Et je les ai chacun associé à du blanc, et à une couleur différente (jaune citron, ocre jaune, jaune indien, bleu manganese, et même un rouge), puis j'ai ajouté du blanc au mélange vert + couleur.
I took out greens out of my paint box, those I bough on impulse or long ago and that I forget to use. I added white to each. Then I added them each to a different colour (lemon yellow, ochre, Indian yellow, manganese blue and even a red), then I added white to this mix of green + colour.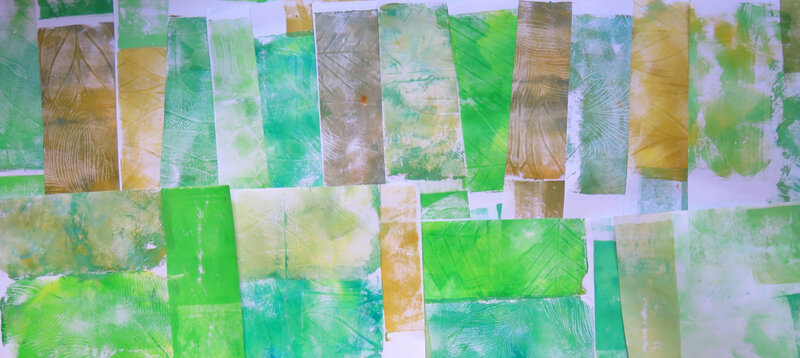 Ensuite j'ai sorti ma gelli plate et j'ai fait une série d'impressions en utilisant ces tons de verts que j'avais notés sur mon carnet.
I then took out my gelli plate and made a series of prints using all the hues I had noted down.
J'ai découpé ces morceaux
I cut and tore the monoprints up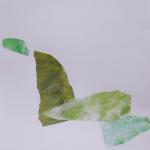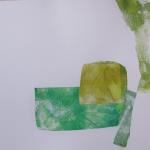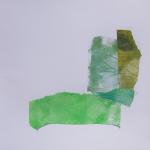 et je me suis amusée à faire des collages. La règle que je me suis imposée : limiter le nombre de morceaux et varier leur taille.
and I made some collages. My rule: limit the number of pieces used and vary their size.
J'ai rajouté alors un des verts foncés que j'avais utilisé dans mes séries de papier pour rajouter un contraste fort. J'ai joué un peu avec des lignes, des motifs et j'ai rajouté une couleur complémentaire, un beau rouge vif:
I finally addded one of the dark greens I had used in my series of paper to add some strong contrast. I played with lines and patterns, and ended up adding some bright red:

N°123

N°124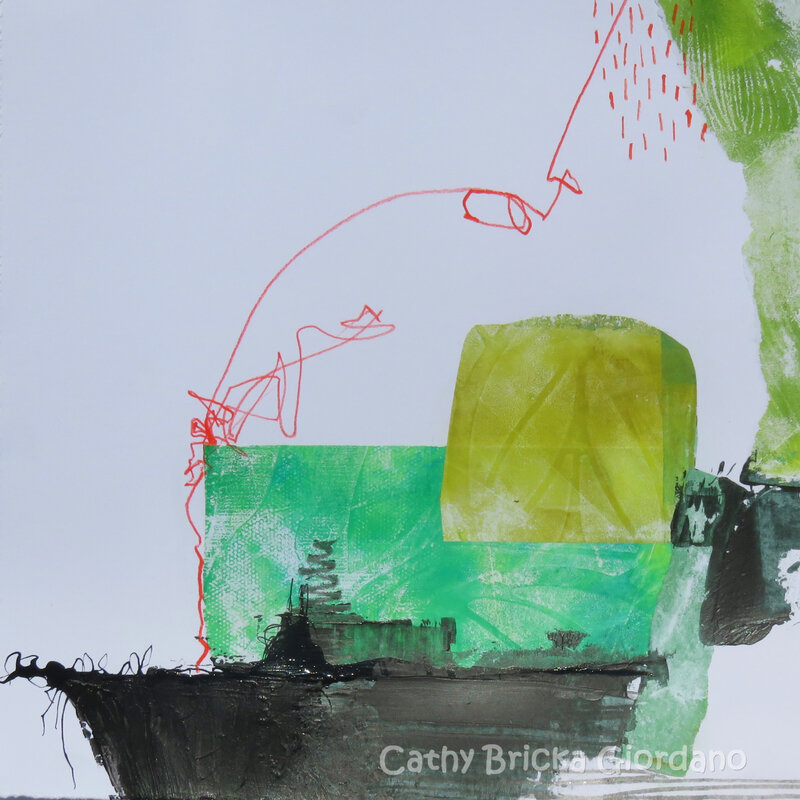 N°125
(pas encore sûre qu'il soit fini / not really sure it's finished)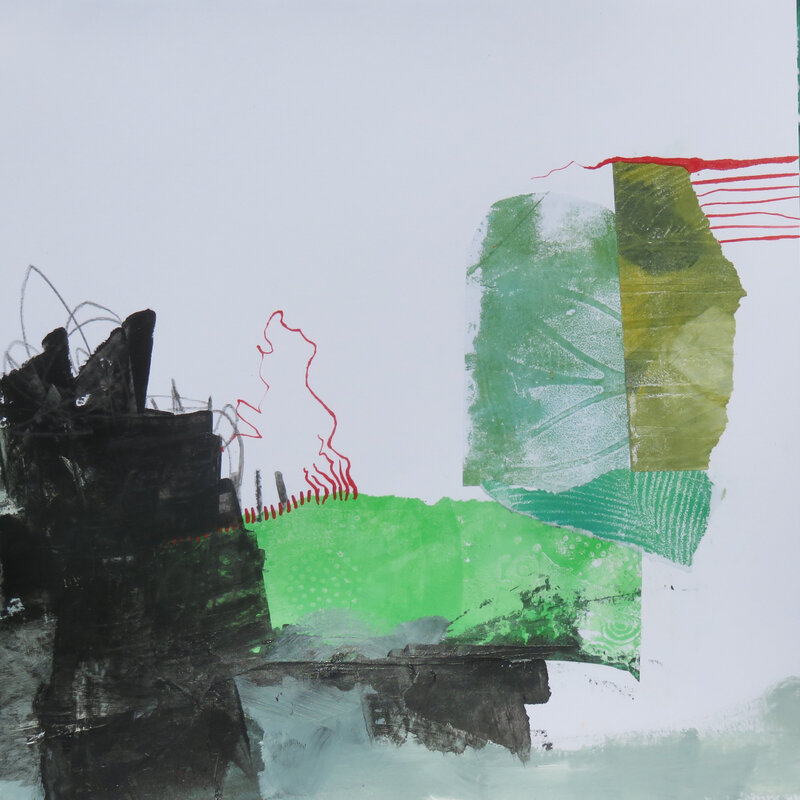 N°126 (ce dernier est sans aucun doute en cours / this one is definitely in progress)
Les voici encadrés, pour donner une idée:
Here they are framed to give you an idea: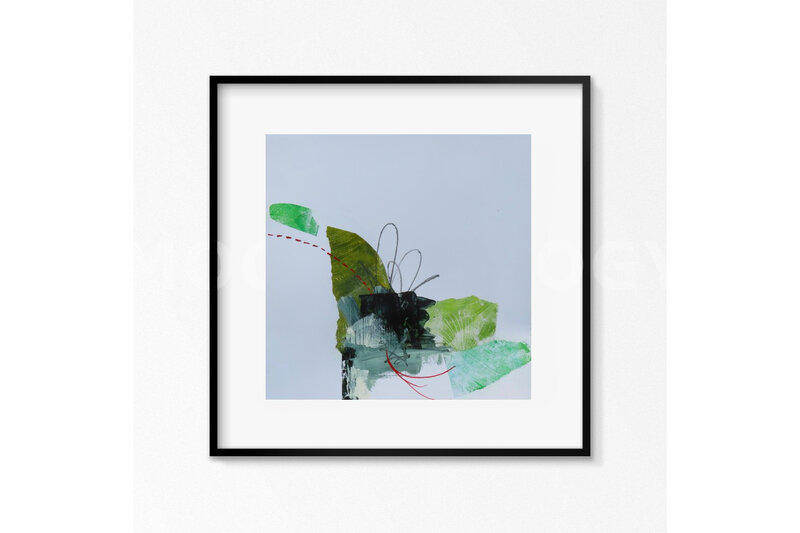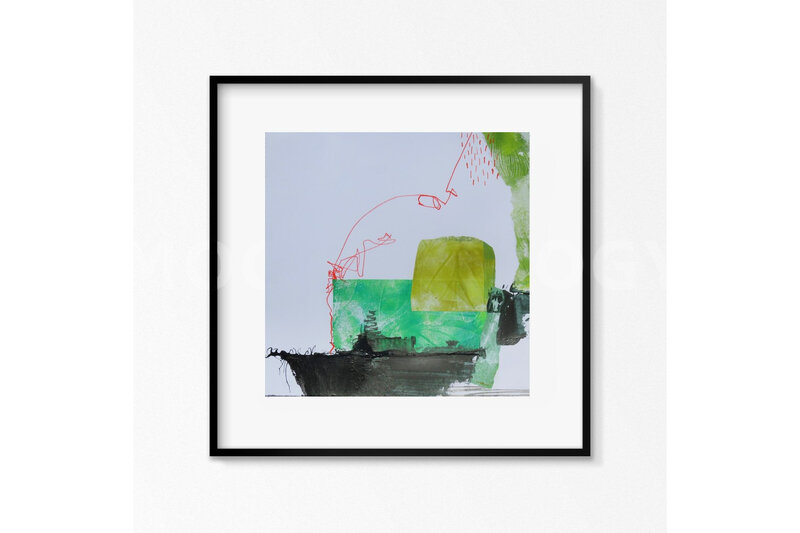 C'est un processus qu'on pourrait faire pour toutes les couleurs, n'est ce pas?
I guess it's a process that could be aplied to many colours, don't you think?

C'est tentant...
Tempting.