Comment faites-vous pour garder en mémoire un bel assemblage de couleur? Un motif fascinant? Une texture?
How do you keep the memory of a beautiful colour composition that struck you? A fascinating pattern? An interesting texture?
Plus terre à terre, que faites vous des restes de peinture sur votre palette à la fin d'une session?
And, more down to earth, what do you do with the paint left overs on your palette at the end of a session?
L'autre jour j'ai lu deux articles intéressants qui ont apporté quelques réponses à ces questions. L'un proposait de faire un "mood board" c'est à dire de rassembler sur un panneau d'affichage des photos, essais de couleurs, textures. On conseillait de garder cela en vue pour garder en mémoire ces couleurs/textures recherchées.
The other day I read two interesting articles that answered some of these questions. One offered to make a mood board that is to gather photos and paint swathes on a panel. They advised to keep that on the wall so that you could see it at all times.
L'autre article proposait de faire des essais de peinture/couleurs/textures dans un grand carnet; d'y déposer aussi la peinture restant sur la palette à la fin d'une session.
The other aticle advised to try out paint mixes on a big art book and to use it also at the end of sessions to put your left over paints.
L'un proposait de préparer consciemment, d'orienter, de tendre vers un but. L'autre proposait juste une façon de garder ces essais en un même endroit.
One advised to prepare consciously, to aim towards a goal, the other only offered a way to keep all the experiments in one and the same place, and to have fun wihout any real afterthought.
J'ai plus ou moins lié les deux idées.
I kind of linked the two ideas.
J'avais justement un de ces grands carnets "mixed media" qu'on m'avait offert un jour, et je ne m'en étais encore pas servi. Depuis quelques semaines, j'y étale régulièrement mes restes de peinture, au lieu de m'en servir comme sous couche sur mes toiles, ou bien j'y pose des assemblages de couleurs qui m'ont plus, au lieu de les mettre sur des feuilles volantes come je le faisais. Je me rends compte que certaines pages deviennent de plus en plus intéressantes.
I had been offered this Art Book a couple of years ago, and I still had not really got round to using it. Fo a few weeks now I've been spreading my paint leftovers, instead of spreading them on my canvases as I used to in order to build up some layers; or I've been saving colour mixes that I liked instead of putting them on free sheets of paper as I used to. I realize now that some pages are getting more and more insteresting.



Pour l'instant je ne me suis pas servie de ces pages comme d'un croquis préparatoire (ma façon de travailer s'accomode mal d'une telle contrainte, j'aime la liberté de réagir spontanément face à mon tableau), mais cela m'a permis d'expérimenter des marques, et des associations de couleurs qui trouveront peut-être un chemin dans mes créations.
For now I haven't used the pages as preparatory sketches (my way of working is not really feasible with "preparing", I prefer a spontaneous response when I'm face to face with a painting), but it enabled me to experiment marks and colour combinations that may find their way on my pantings somehow.
Certaines pages ont encore un aspect inachevé:
Some pages definitely have an unfinished look: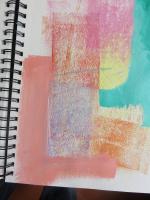 un essai de couleurs / trying out some colour combination
Mais d'autres commencent à avoir un vrai caractère
while others are starting to show real character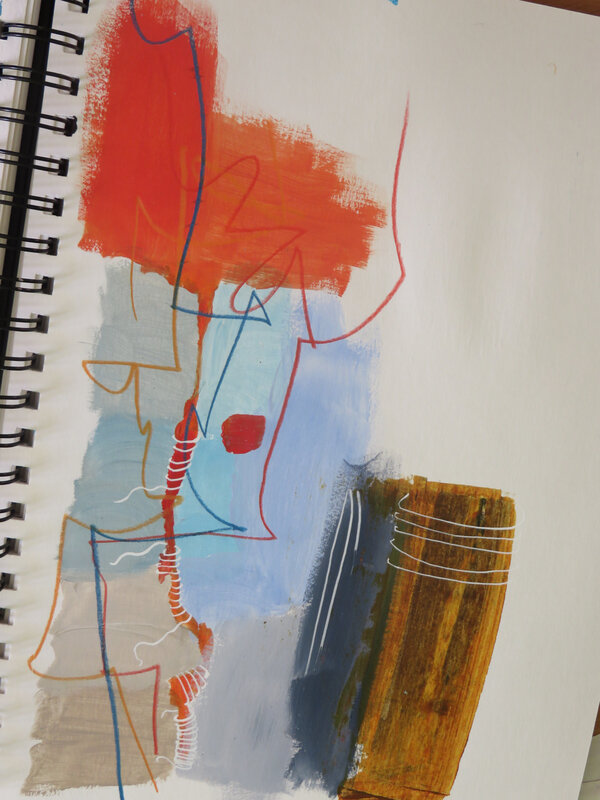 une envie de travailler des lignes / working on lines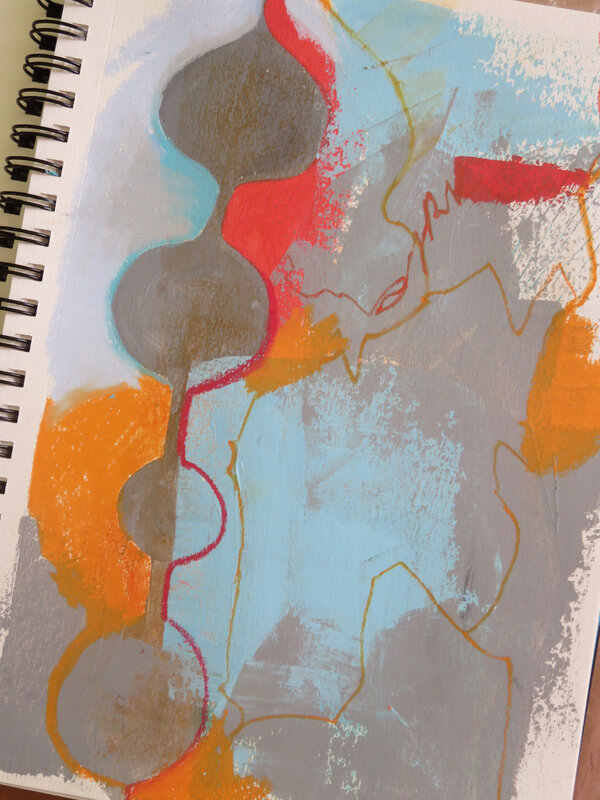 le hasard des assemblages: ce framboise, ce bleu, cet orange et ce gris: j'adore!
this colour combination just happend by chance and I love that raspberry pink together with this blue and orange !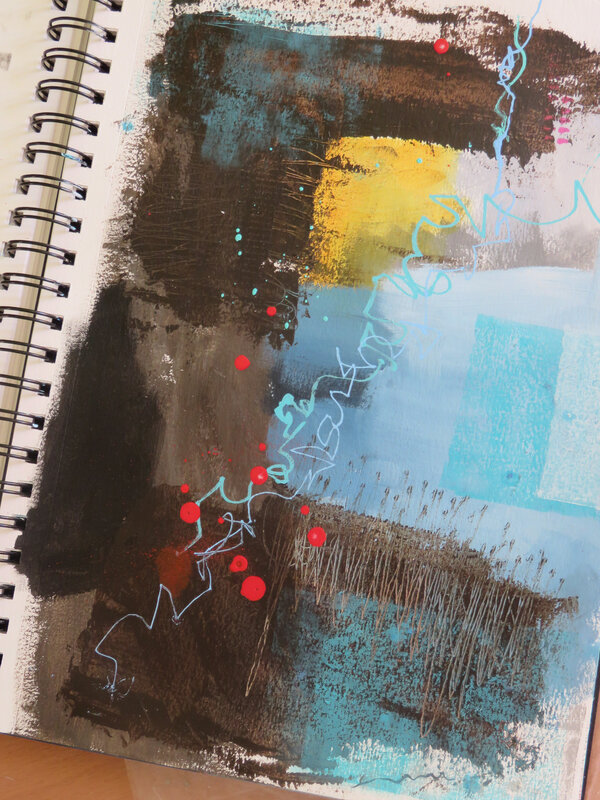 autre bel hasard ce bleu indigo + du blanc, associé à ce jaune, ce marron foncé et ce rouge : un délice!
another chance mixing: indigo blue + white, with this yellow, dark brown and yellow: yummy!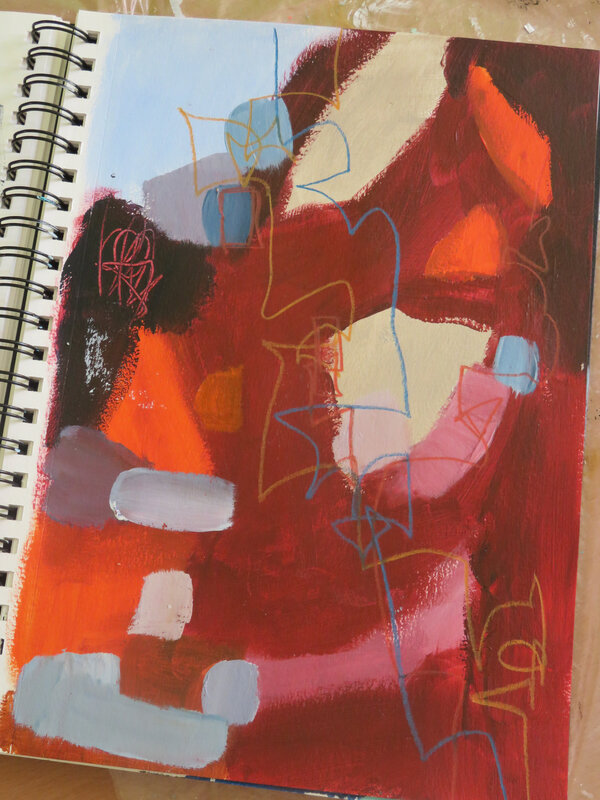 j'ai voulu garder en mémoire un chemisier avec des fleurs bleu/gris sur un fond bordeaux; il y avait aussi des fleurs plus petites (ou des feuilles?) orange;
I wanted to keep a trace of a beautiful blouse: blue-grey flowers on a bordaux background, with smaller orange flowers or leaves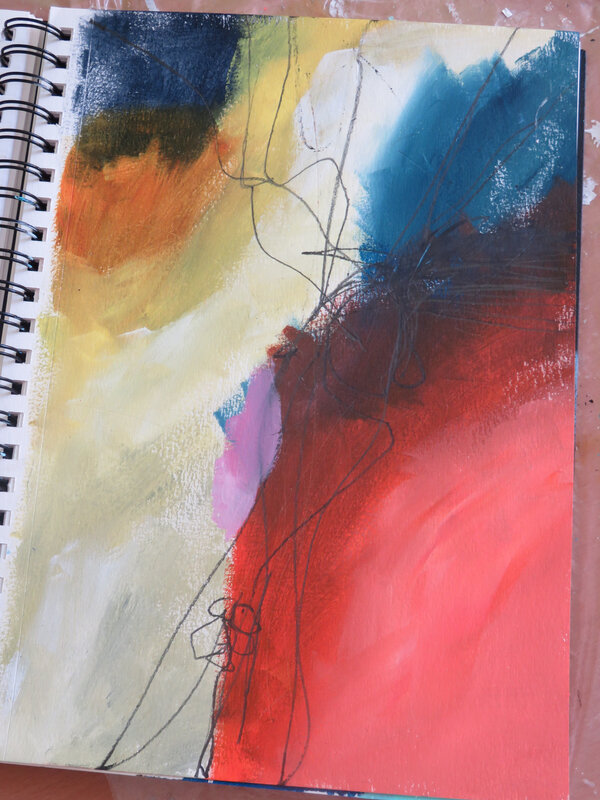 essais de lignes. Envie de faire une composition avec une grosse masse qui domine le reste
trying out lines. I would like to try a composition with a huge mass dominating the rest.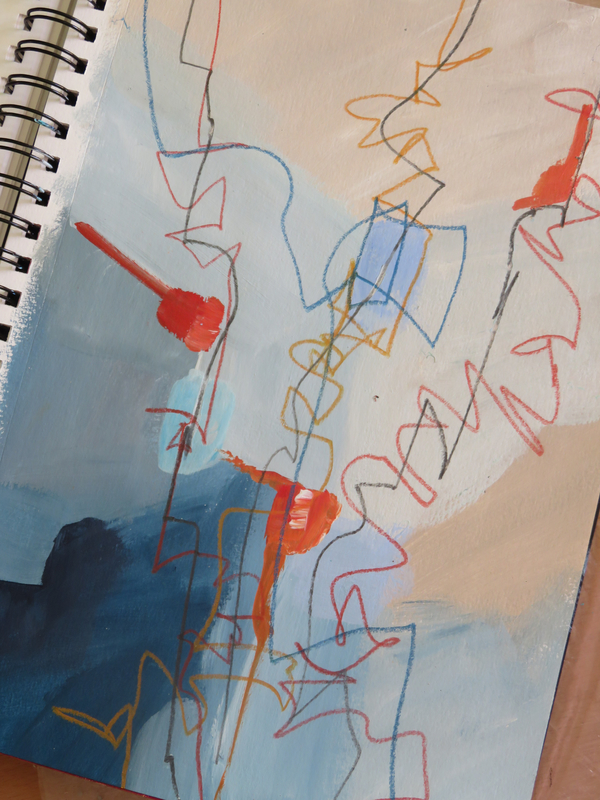 essais de lignes; j'avais vu je ne sais plus quoi avec ces gris/bleu et orange sur fond beige
trying out lines with new watercolour pencils; I had seen I don't know what with these grey-blue and orange on a beige background.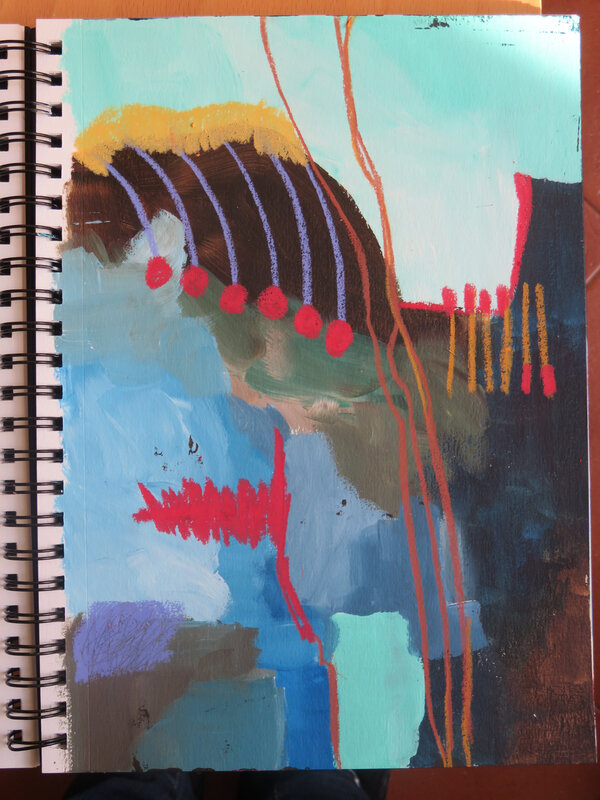 hasard : j'ai osé les couleurs sans réfléchir, et j'ai eu envie d'ajouter ces motifs avec des pastels.
pure chance: I put colours without really thinking, then I added some pattern with water-soluble crayons
Pas d'enjeu, pas de projet, pas d'intention; on se lâche et on s'amuse, et ça c'est le B.A.BA de la peinture.
No planning, no intention, no aim; you just relax and have fun. I guess that's painting first rule.