Après une période d'arrêt, on a parfois un peu de mal à se remettre à la création. Mes petits trucs vont peut-être vous aider. Voici comment je fais.
After a break, it's sometimes hard to go back to creating. My tips may help you. Here's what I do.
Je feuilette les images de tableaux que je "collectionne" depuis des années, mois, semaines. Que cela soit sur instagram ou sur le net, je marque ou je télécharge les travaux qui m'ont plu. C'est seulement une collection personnelle, simplement pour le plaisir de regarder plus à loisir ou pour me souvenir du nom d'un artiste que j'aime. Après une longue pause, c'est comme plonger dans un bain concentré d'inspiration.
I browse through all the pictures of paintings / creations that i've collected throughout the previous years/months /weeks. Whether it is on Instagram, or on the net, I mark or download works of people I like. It's just a personal collection, just for the pleasure of looking at them or to remmember the name of artists I like. After a long break, it's like dipping in a concentrated bath of inspiration.
Puis je décide sur une sorte de "contrat" que je me pose. Je vais par exemple décider de travailler uniquement avec des cercles centrés sur la page, ou bien empiler des formes allongées, ou bien travailler avec différents motifs et une forme principale unie, etc... Une fois que j'ai émis une liste de "règles", j'essaye de m'y tenir globalement et de ne pas trop partir dans tou les sens.
I then decide on a "contract" I'm going to set to myself: for example, I may decide to work with round shapes centered on the page, or pile up rectangle shapes, or work with lots of different patterns and only one plain shape, etc... Once I've set myself a set of rules, I try to mainly stick to them and try not to explore too many directions at the same time.
L'autre jour, par exemple, j'ai décidé de m'y rmettre en commençant par des collages (les résutats sont ainsi plus rapides) en utilisant uniquement des monoprints bleus pour les formes principales, puis d'ajouter des petites touches de couleurs chaudes. .
The other day, for example, I decided to start with collages (you quickly have results) using pieces of blue monoprints as a start and as the main shapes, then add smaller touches of warm colours
J'ai pris 8 feuilles de papier format carré (300g).
I took 8 pieces of 300g paper (square).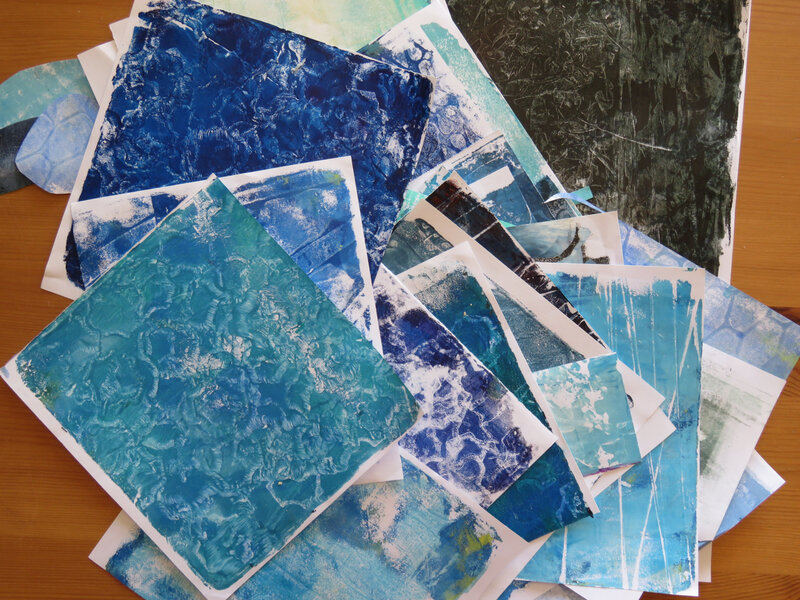 une série de papiers imprimés avec ma gelli plate (monoprints)
a series of blue papers printed with my gelli plate (monoprints)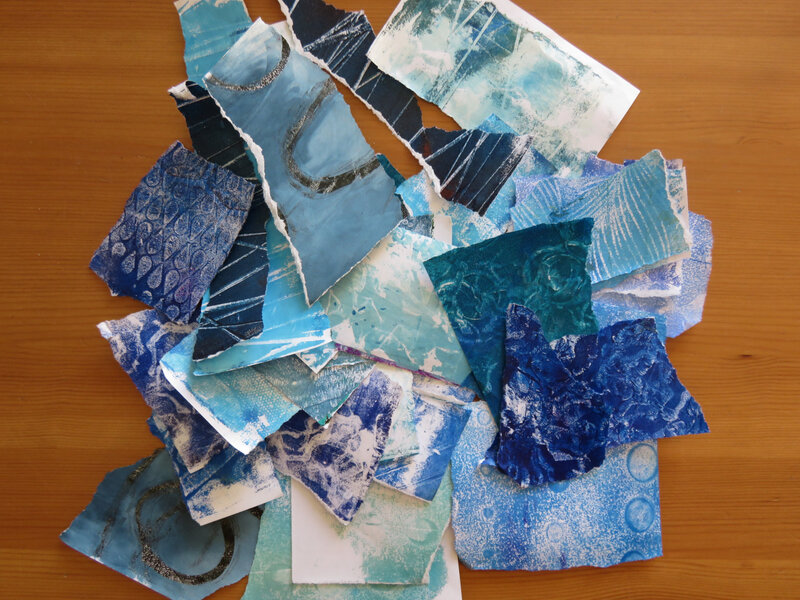 Je les ai déchirés
I tore them up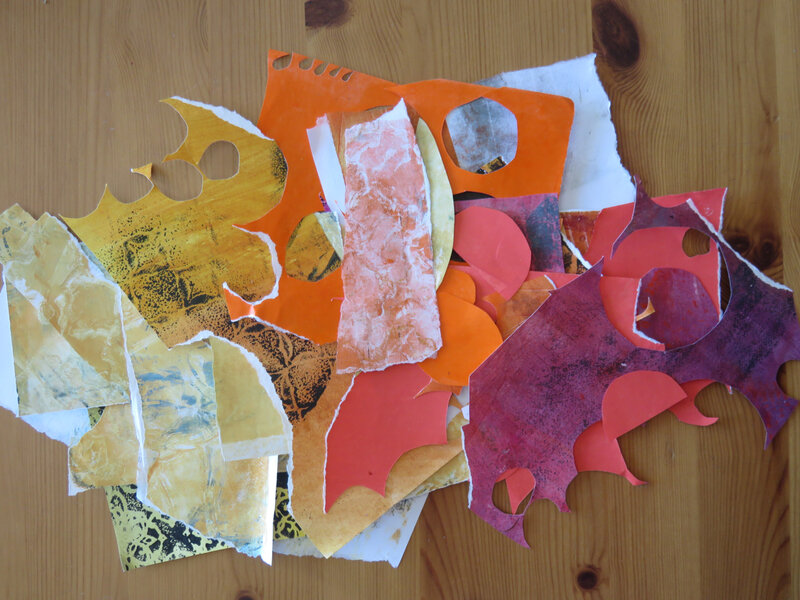 Et j'ai rassemblé des chutes de monoprints de couleurs chaudes
And I gathered monoprints offcuts in warm colours.
Garder le tout lisible, simple, et ne pas perdre de vue son intention première: des formes bleus et des petites touches de couleurs chaudes.
Keep it clear, keep it simple, stick to your intentions : blues with light touches of warm colours.
Une fois que les pièces principales sont collées, ajouter quelques lignes ou motifs avec des crayons aquarellables ou avec des pastels.
Once you've collaged your main pieces, you can then add a few lines and/ or pattern with watercolour pencils, crayons or acrylic markers.
Dans ce lot de créations, certaines resteront dans un tiroir, mais quelques-unes déjà attirent mon oeil (N°144, 146, 149). C'est souvent celles que je travaille vers la fin de la séance, quand je suis plus fatiguée, et où mon esprit lâche un peu et me laisse créer sans retenue.
In this series of works, some will definitely rmain hidden in a drawer, but some have already caught my eye (n°144, 146, 149). It's often the case with the works I tackle at the end of a session, maybe becasue I'mmore tired so my mind loosens up a bit.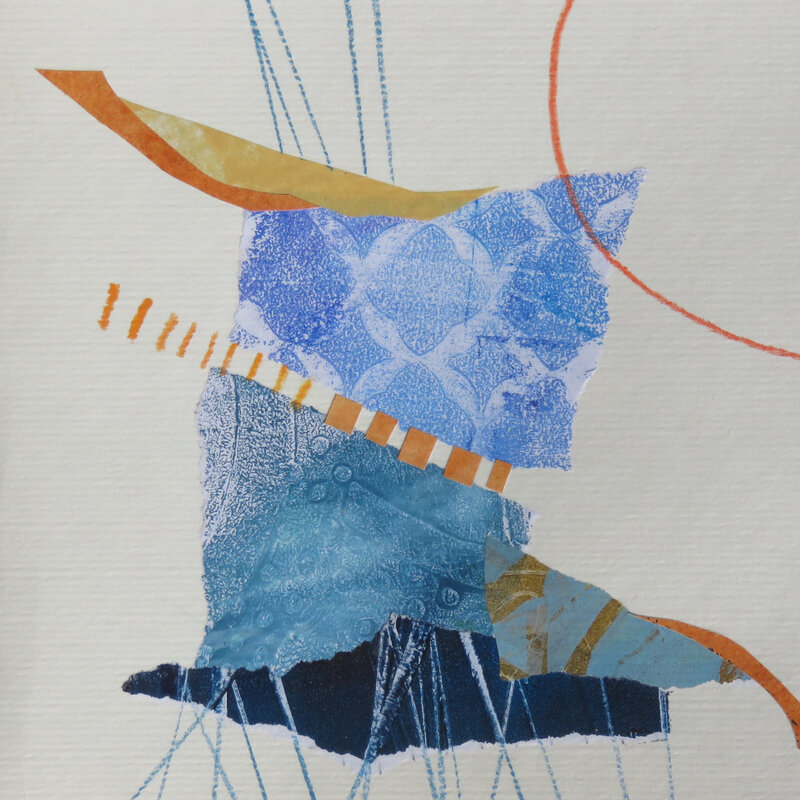 N°144

N°145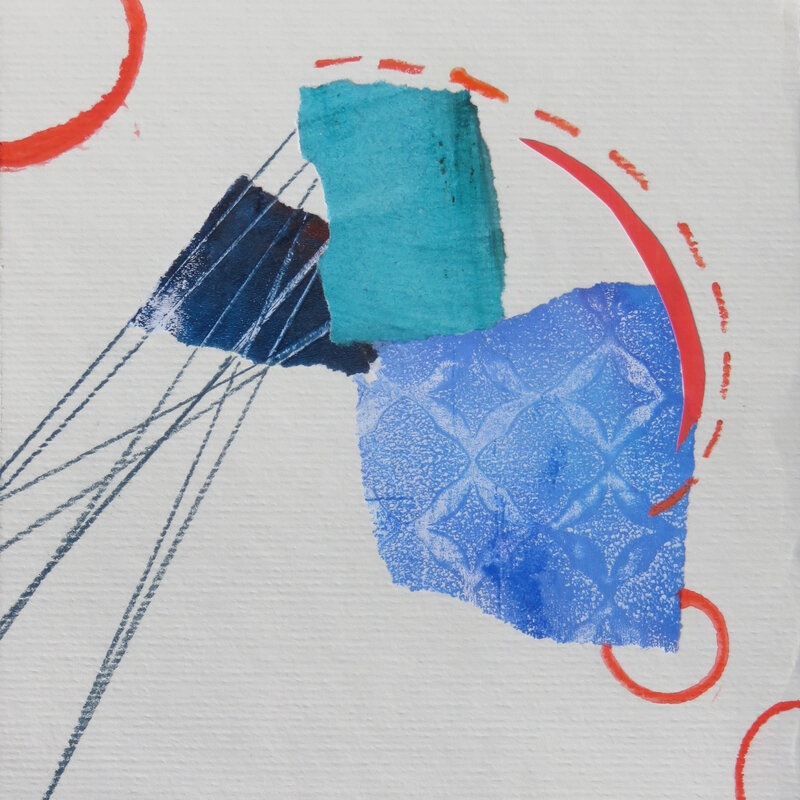 N°146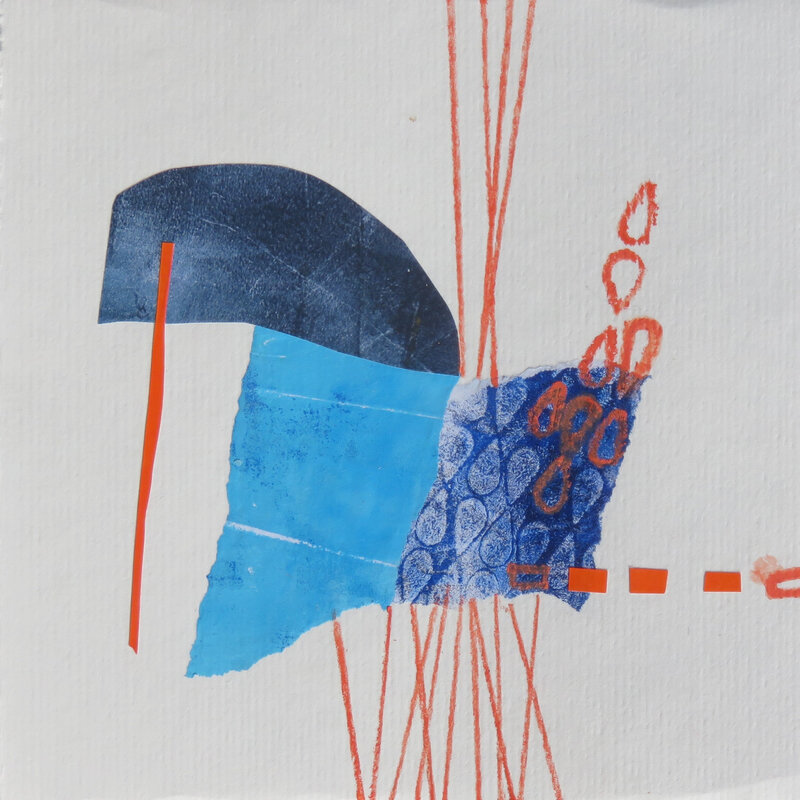 N°147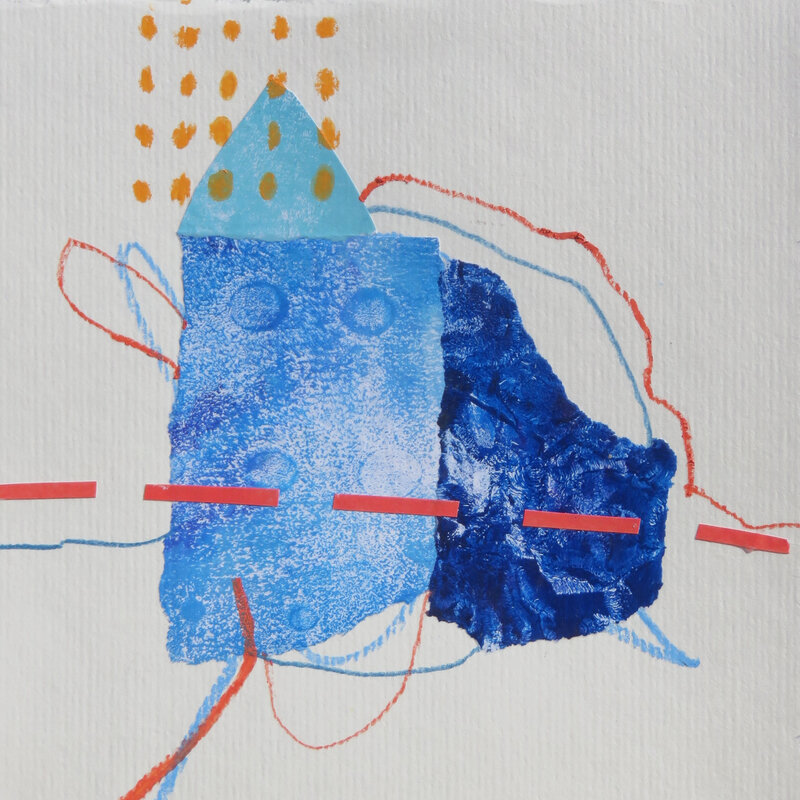 N°148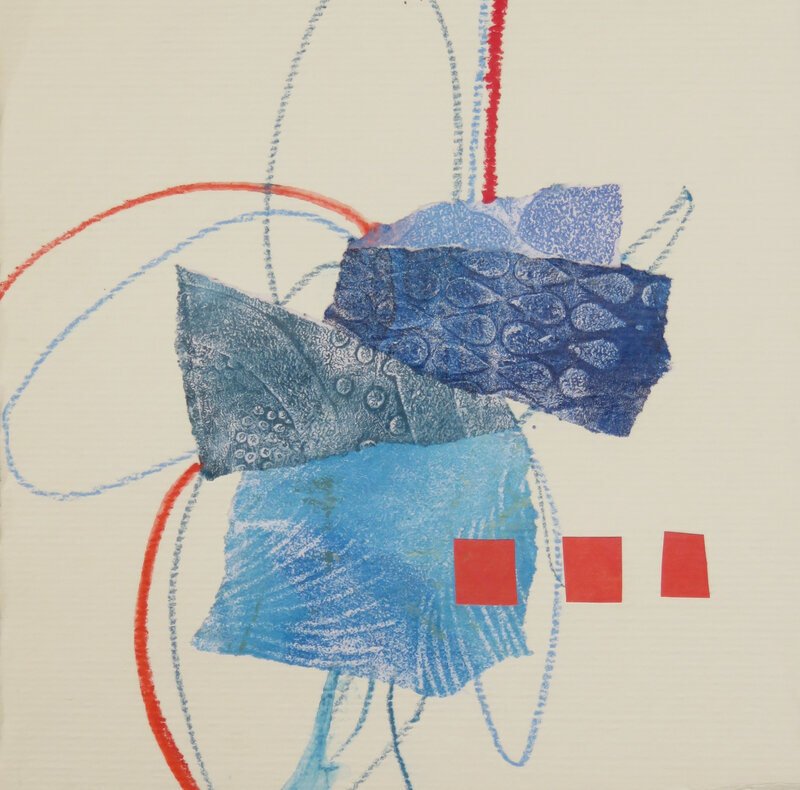 N°149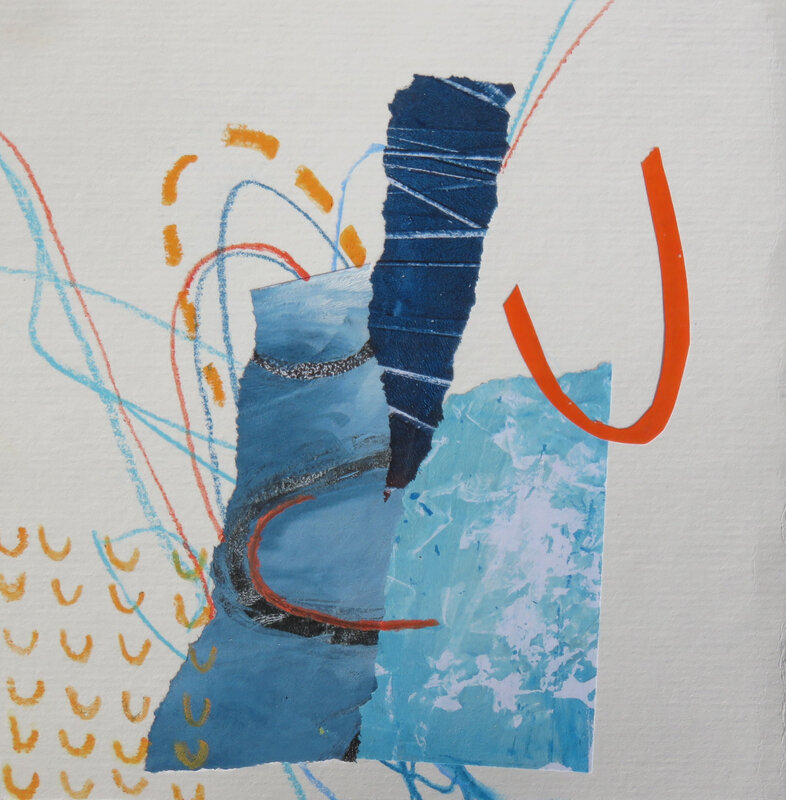 N°150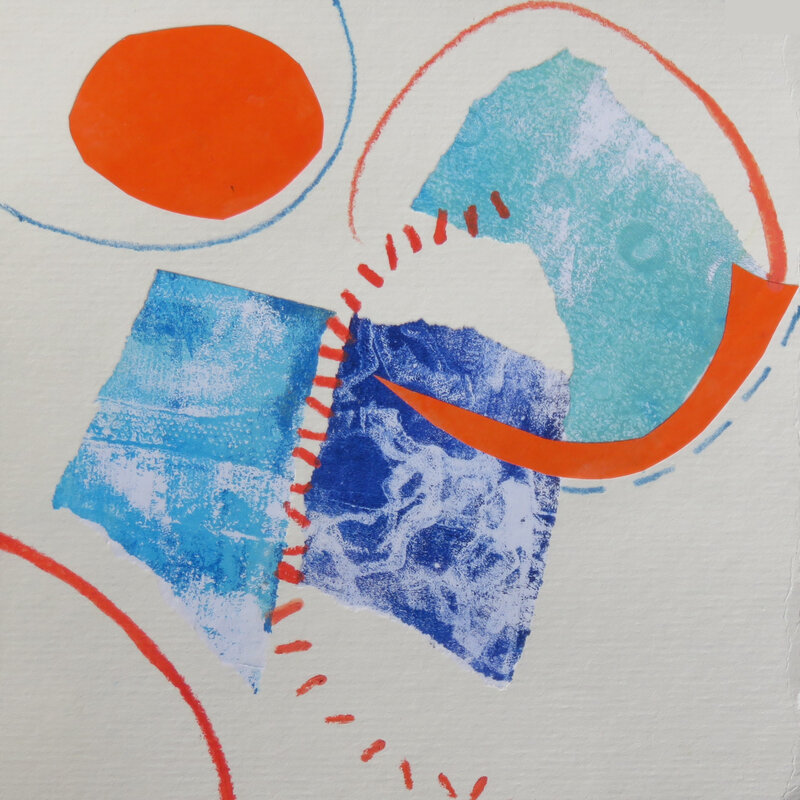 N°151
Penser simplicité. Ne pas trop surcharger. Garder le projet initial en mémoire. Faites vous plaisir en faisant des marques. Rappelez-vous qu'il n'y a aucun enjeu. Juste e pur plaisir de peindre, tracer des lignes et des motifs. Régalez vous.
Keep it simple. Don't overwork it. Stick to your initial plan. Enjoy mark making; remember there's no big stake in this. Just the pure pleasure of painting and drawing lines and patterns. Have fun.
Regardez-les encadrés pour pouvoir prendre du recul
They look quite good framed together, don't they?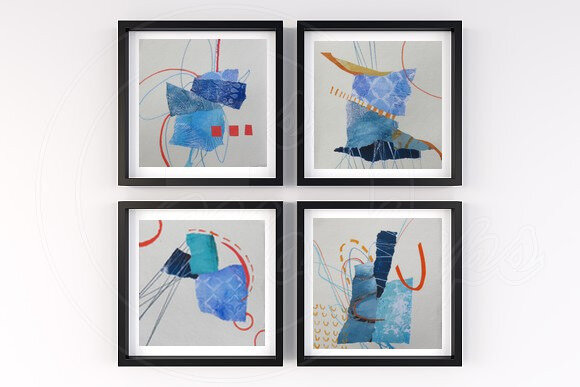 et voyez combien travailler par série est intéressant, les formes se répondent
see how working in series is interesting: shapes answer one another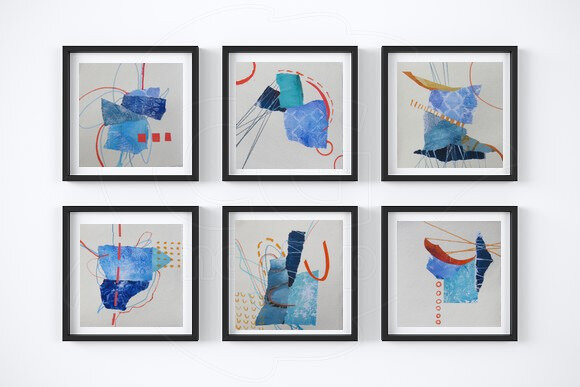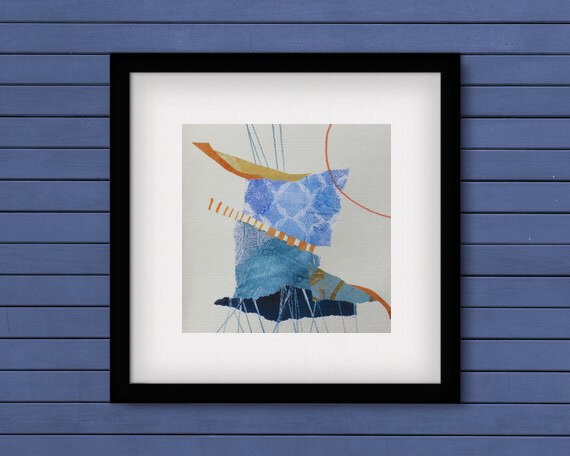 le 144 sur fond bleu, cadre noir? / 144 on blue background with black frame?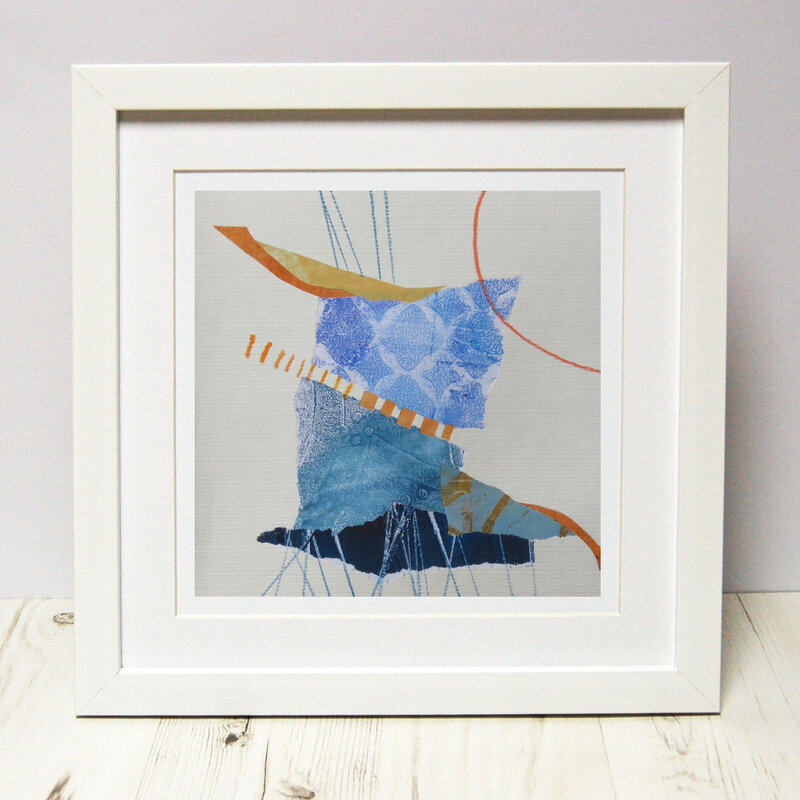 ou sur fond clair, cadre blanc (perso, je préfère)
or on neutral light background with white frame? (personally I prefer this way)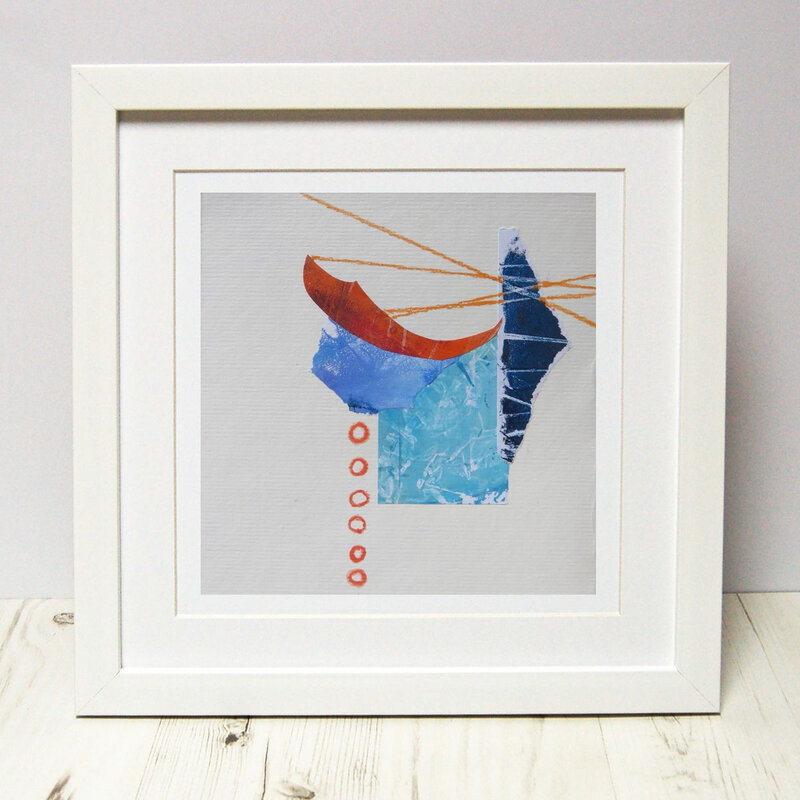 N°145

N°146

N°147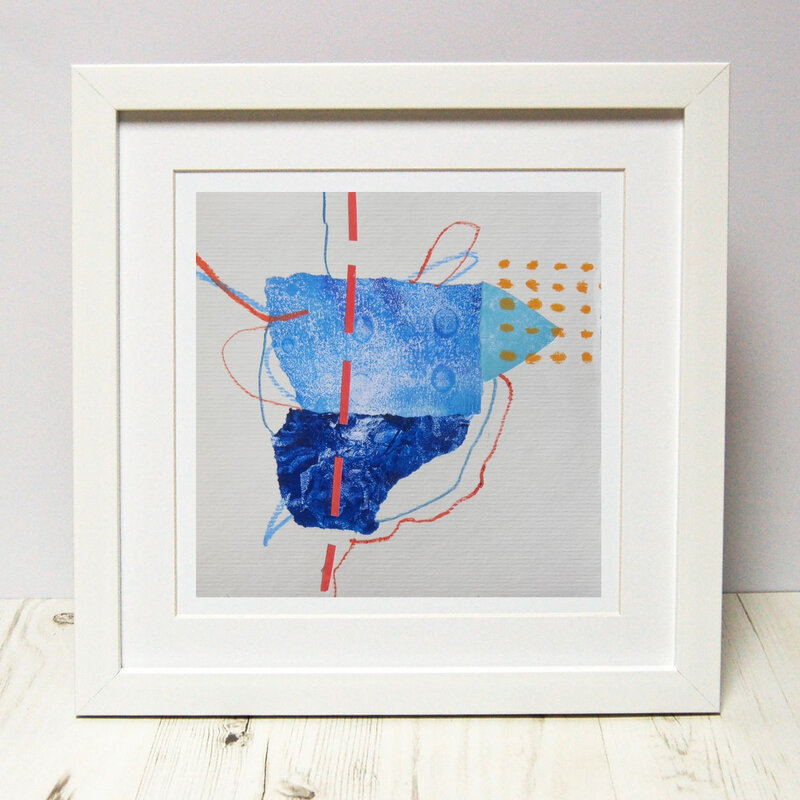 N°148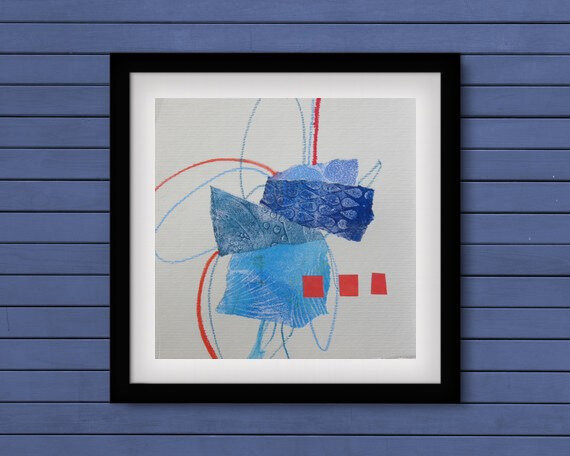 149 en fond bleu? / 149 on blue background?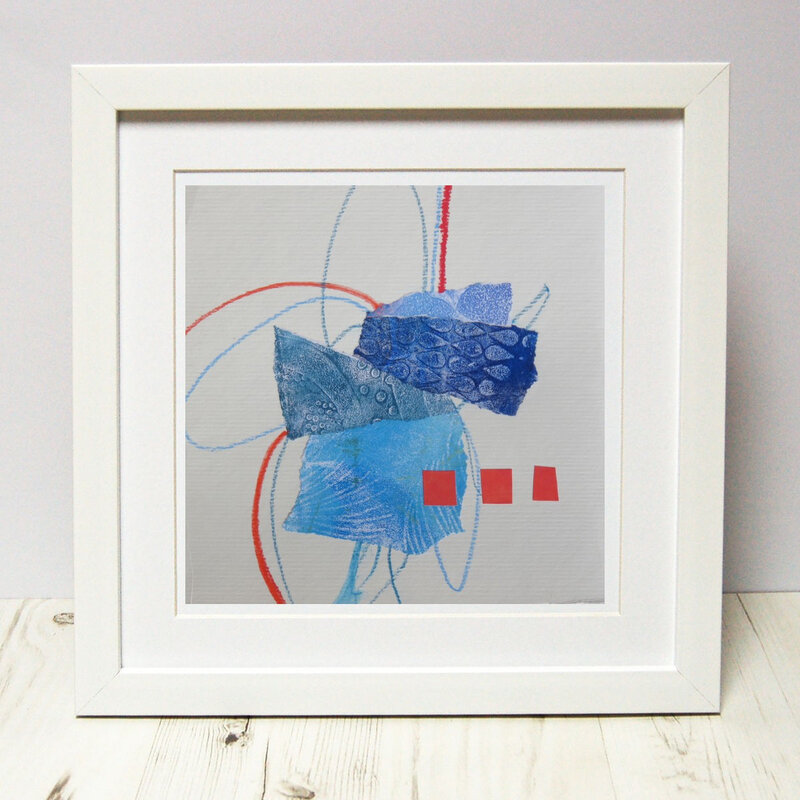 ou clair? / or light background?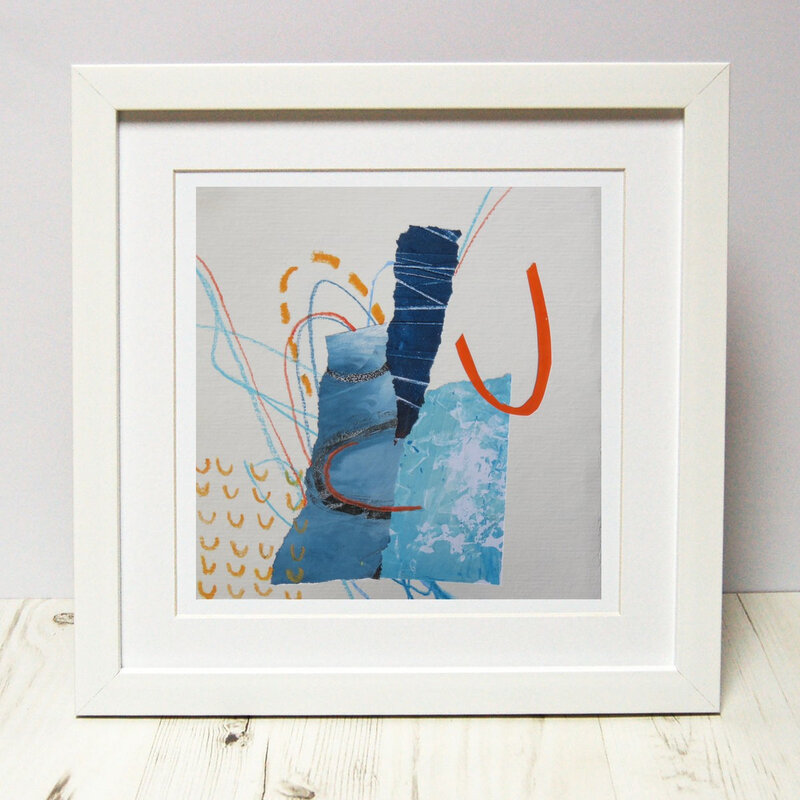 N°150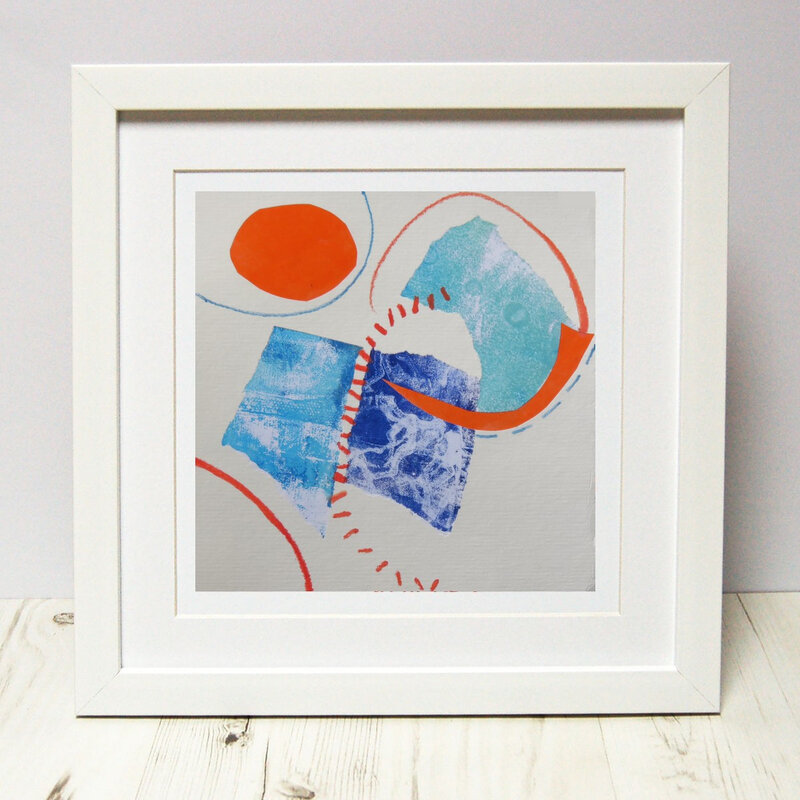 N°151
A l'issu d'une telle séance de démarrage, des associations lignes/couleurs/formes se font, des accidents heureux arrivent, et donnent des envies, des idées : la machine est à nouveau lancée. Ne vous arrêtez plus!
At the end of such a session (and even after a long break!) you'll have a series of interesting leads to follow, chance associations, new marks will hav emerged. Whatever the quality of the rsults, you've started working again, and nothing can stop you now. So just grab your brushes and go!