(English version below)

... hier. Nous nous étions donné rendez-vous dans un petit parc, où nous savions qu'il y avait des aires de pique niques sympas – et une grande aire de jeux pour les enfants. On a plutôt passé notre temps à boire et manger qu'à voir les animaux (les expats deviendraient-ils blasés avec le temps ???), mais avant de partir nous sommes quand même allés faire un tour…
A noter, la terre rouge de la région qui donne aux animaux cette drôle de couleur…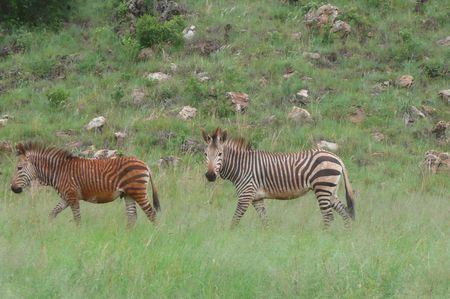 A noter aussi, nos petits sont revenus avec les pieds de cette couleur là aussi !!!

---
... yesterday. We had arranged to meet in a small reserve, which we knew had nice picnic areas - and a nice playground for the kids. We have spent the day eatingand drinking instead of watching animals (do expats grow tired and blasés???), but before we left, we had a quick drive around…
It's interesting to note that the colour of the earth there gives a strange colour to animals... but also to our kids' feet!