Tout le monde rêve de voir des éléphants, des girafes, voire des lions, mais ce que la plupart de nos visiteurs ne savent pas, c'est que pour les voir, il faut se lever tôt, que dis-je, TRES TOT!!
Everybody dreams of seeing elephants, giraffes or even lions, but what most of our visitors don't realise, is that if you want to see them, you have to get up early, and I mean real early!!!
Samedi matin, le réveil a sonné pour nous à 5h30 (et encore, c'est parce que le soleil ne se lève que vers 6h00 et quelques); à 5h30 il fait encore nuit noire, et quand nous avons passé la porte du parc à 6h00, l'aube pointait tout juste. Mais c'est seulement ainsi que l'on peut espérer surprendre les animaux encore actifs. L'inconvénient, c'est qu'il n'y a même pas assez de lumière pour de bonnes photos, mais qu'importe, nous, on en a pris plein les yeux.
On Saturday morning, the alarm clock rang at 5h30 (and that's because now the sun only rises at 6am); at 5:30 it's still pitch dark, and when we went through the reserve gate at 6:00, it was only the beginning of dawn. But that's the only way to be able to spot active animals. The drawback is that there's not enough light for good photos.
Le premier matin, on est tombés sur un chacal (désolée, c'est un peu flou par manque de lumière) / On the first morning, we saw a jackal on the road (sorry it's a little blurred because of the poor light)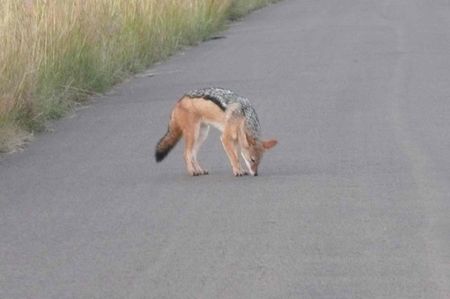 et aussi sur un rhino qui traversait devant nous (même problème de lumière) / and also a rhino crossing the road just in front of us (same problem with the light)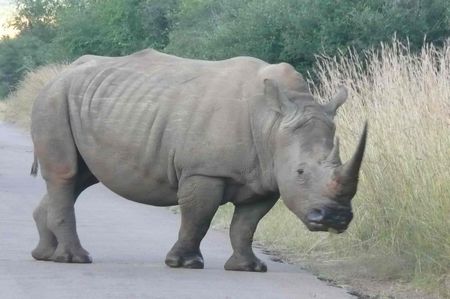 après un petit tour, on arrive vers les 7h00 au hide (une cabane d'affût) près du grand lac / after a litlle drive around, we got to the hide at 7:00 next to the big dam:




d'où l'on peut observer ... / where you can see...



oui, oui, des tortues!! / yes! turtles (or it is tortoise? I'm never sure)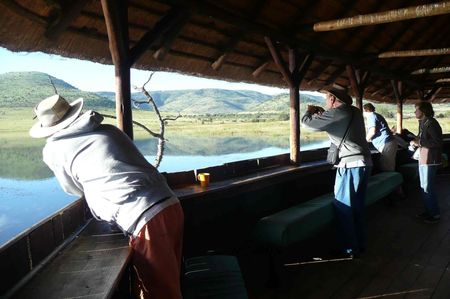 mais on y prend aussi un café, et l'on peut se dégourdir les jambes, et prendre quelques photos du spectacle / you can have some coffee or tea, walk a little, and take some more pictures of the show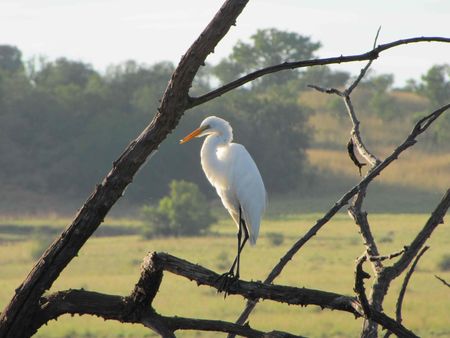 (aigrette / egret)



(martin pêcheur / pied kingfisher)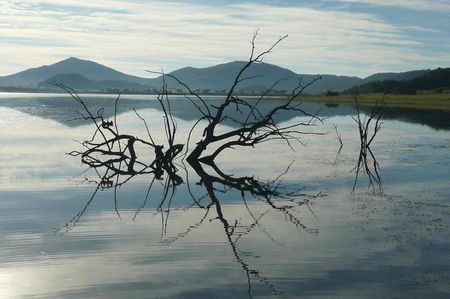 avec une lumière pareille, je vous assure qu'on ne regrette pas de s'être levés tôt!!
with such a beautiful light, how can you regret getting up so early?