Samedi dernier, je suis allée à Norscot Manor, à Johanesburg. Le groupe 'Joburg Sketchers' avait prévu de s'y retrouver pour y croquer de concert. J'vaias jusqu'alors à chaque fois raté les autres rencontres et ne voulais pas en manquer une de plus. J'ai retrouvé le groupe et ai eu le plaisir de rencontrer enfin Cathy Gatland, une autre bloggueuse-croqueuse de Johanesburg. Cela fait un an ou deux peut-être que je suis son blog et elle le mien. Allez voir son blog si vous le ne connaissez pas encore. Elle fait partie du célèbre groupe des 'Urban Sketchers', des passionnés des croquis qui soumettent des croquis 'urbains' de partout dans le monde.
Last Saturday, I went to Norscot Manor in Jo'burg. The group 'Joburg Sketchers' had planned to meet there and sketch together. I had so far missed the previous dates, and didn't want to miss another one. I found the group and had at last the pleasure to meet Cathy Gatland, a fellow sketcher and blogger (check her blog if you don't know it yet). I've been following her blog for a year or two now, and she mine. She's part of the famous Urban Sketchers, those sketch-fans who send their urban sketch from all over the world.
Bref. On s'est baladés dans les jardins de cette belle ancienne demeure au style Cape Dutch, et on s'est dispersés à la recherche de points de vue - et d'ombre car il faisait très chaud samedi. J'ai croqué à tire-larigot, très vite, peut-être trop vite, mais j'ai l'impression que si je vais plus doucement, mes croquis vont être lourd et plein de détails inutiles. La vitesse m'aide à ne pas trop réfléchir.
Anyways. We wandered around and dispersed all looking for sights that appealed us - and shade, because it was very hot that day. I sketched like mad, very quickly, maybe too quickly, but I feel that if I go any slower, my sketches are going to be heavy and full of useless details. Speed help me not to think.
1)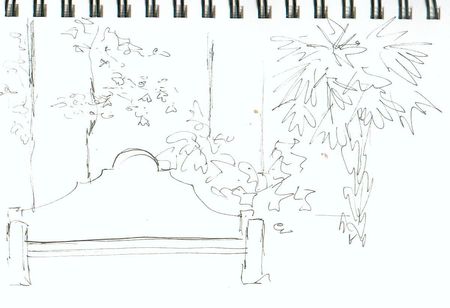 Je vous montre à chaque fois le croquis tel qu'il est fait sur place et le croquis aquarellé. Je prends une photo de toutes les vues que je croque, et c'est seulement à la maison que j'ajoute la couleur.
I'll show you each sketch I made on the spot, and then the sketch with coulour. I take a picture of all the sights I sketch and when I get home I add some watercolour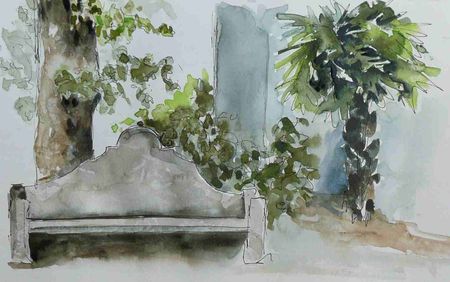 C'est fou comment un peu de couleur, ça change tout, hein?
It's amazing how much colour changes everything.
2)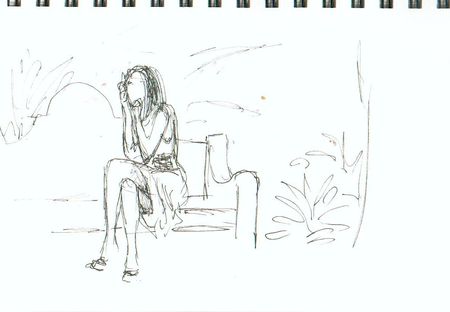 Parfois, quand on a la main un peu trop lourde, ça peut aussi tuer un croquis qui avait du potentiel
Sometimes, if you're a little too heavy on colour you can also kill a sketch with potential
3)


Les gens ne restent pas en place, il faut être rapide; là la femme s'est levée au moment où je commençais à la croquer
People move a lot, and you have to be quick; here the woman stood up just as I was starting sketching her


4)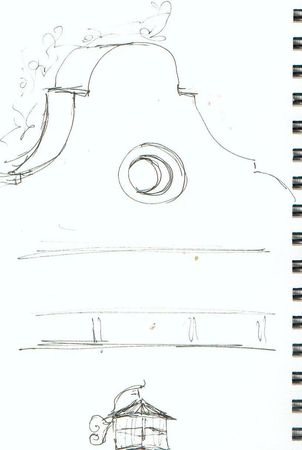 Deux traits, trois arrondis, je ne m'occupe pas des ombres quand je croque, juste des formes
Two lines, three curves, I don't care about shadows when I sketch only the shapes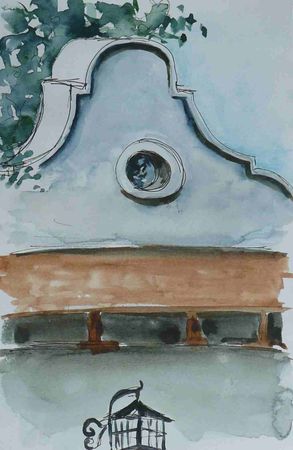 C'est avec la couleur que je donne du volume
I place shadows and volumes with colour
5)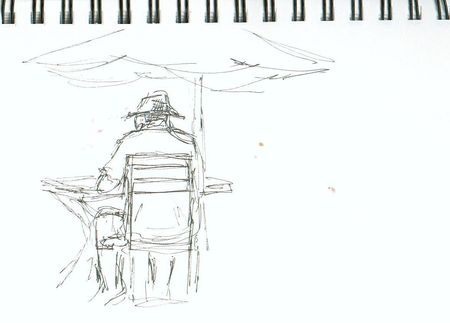 Les scènes sont parfois un peu dépouillées
The scenes are sometimes a little bare



Mais avec la couleur cela rend tout plus vivant (dans ce cas précis, à trop vouloir bien faire, j'avais trop travaillé la végétation au fond, et cela détournait l'attention de mon personnage; j'ai passé un coup de pinceau mouillé sur mes plates bandes trop jolies pour les flouter un peu)
But with colour you can make it so lively (in this case, I overdid the background vegetation, and it attracted too much attention, so I just brushed over it with a wet brush in order to blur it a little)

6)

Voici ma première scène 'publique': plusieurs personnages. C'est le genre de scène qui m'angoisse. J'ai essayé d'aller encore plus vite pour ne pas me laisser bloquer par la peur! Et finalement je suis assez contente de l'impression qui s'en dégage. Quand on y regarde de près, c'est du n'importe quoi, certaines personnes n'ont pas de table, et cela ne correspond pas vraiment à la réalité, mais cela rend bien l'impression de foule attablé sous des parasols, alors au diable la réalité!
This is my first 'public scene', I mean with lots of characters. It's the type of scene that freaks me out. I tried to be even quicker than usual in order not to think too much! And in fact I'm quite pleased with the overall impression. When you take a closer look, it's completely false, some people have no table, and it doesn't correspond to the reality of who was sitting with who, but it gives a good impression of a crowd sitting under sun-shades, so who cares about the reality!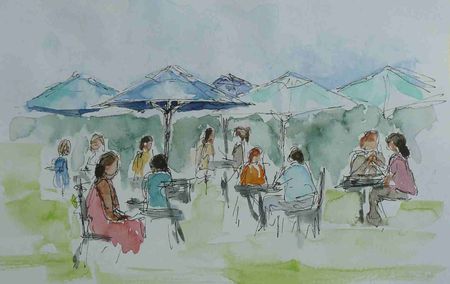 7) et 8)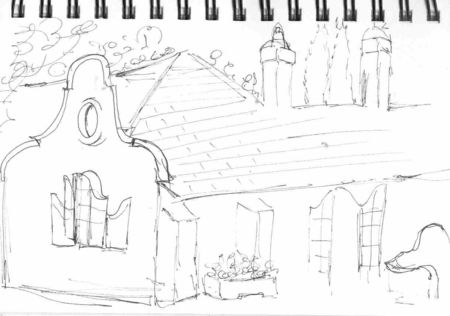 voici le premier et le dernier croquis de la journée. Vous remarquerez que le premier est tout de travers et raide, ...
here's the first and the last sketch of the day. You'll see how the first one is all wrong, ...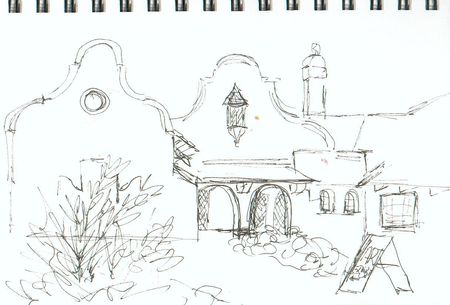 ... alors que dans le dernier on sent que la main est plus souple et calme.
... while the last one is more relaxed.
Les croquis, c'est comme pour n'importe quel sport: on est rouillés au départ, puis cela va mieux; et il faut pratiquer régulièrement!
Sketches are like sport: at first you're tight, then you get into it; and you must practise regularly!
*********************************
Je pars pour une semaine au sud de Durban à la plage.
A très bientôt!
I'm going away for a week to a beach resort south of Durban.
See you soon!