Voici ce que j'ai remarqué l'autre jour, en traversant pour la nième fois le parc de la Villa Borghese à pied :
Here's what I've noticed the other day, while walking across the park of Villa Borghese for the umpteenth time:
Le plan du parc n'a pas fait une 'spéciale St Valentin', rassurez-vous, non, c'est bien sa forme. Charmant, non? C'est peut-être un parc dédié à l'amour? En tous les cas, parmi toutes les statues qui ornent le parc, il y en a une qui me plaît particulièrement:
The park map wasn't put on as some "Valentine Special", it's just the actual shape of the park. Isn't it charming? Could it be a park dedicated to love? Who knows? Among all the statues decorating the place, I'm particularly fond of this one: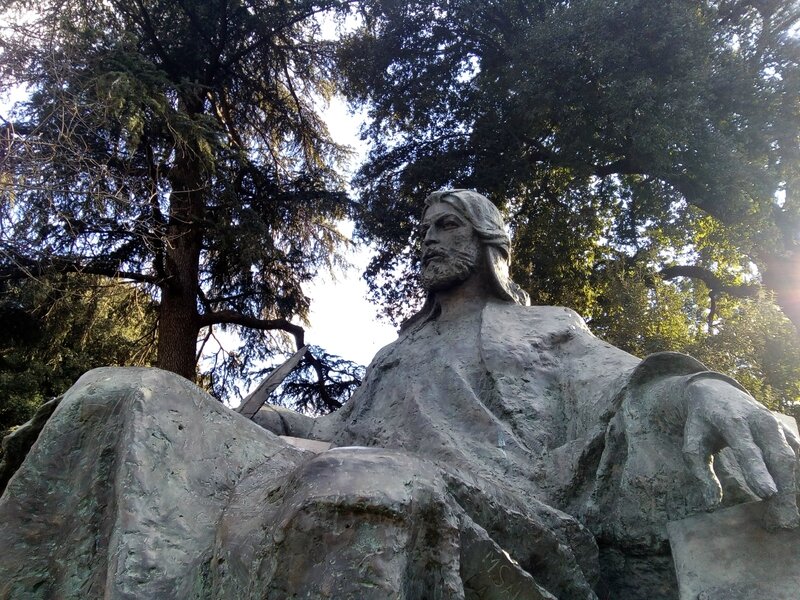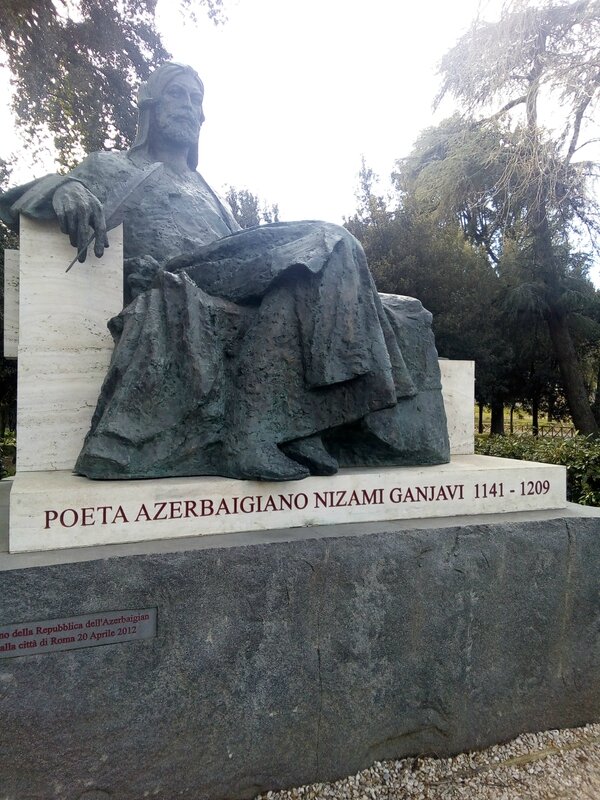 celle du poète d'Azerbaïdjan Nizami Ganjavi, du XIIe siècle,
12th century Azerbaijan poet Nezami Ganjavi.
dont on dit qu'il était le plus grand poète romantique et épique de la littérature Perse
said to be the most romantic epic poet in Persian Literature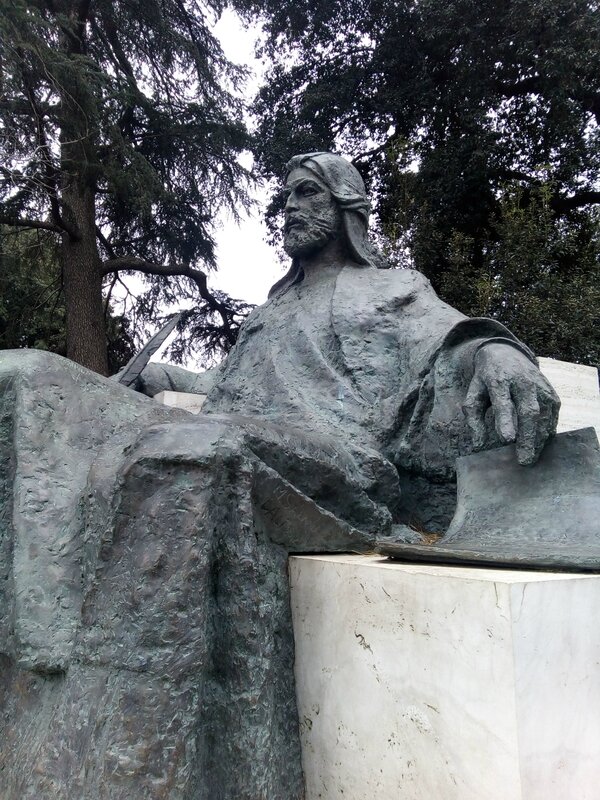 Elle est un peu plus grande que l'échelle humaine, et il semble si détendu, si sûr de lui en même temps, que je lui fais presque un signe à chaque fois que je le vois.
It's a little bigger than the human scale, and he looks so relaxed, so self confident at the same time, that I almost nod to him each time I see him.
J'aime la tranquillité et la force qu'il dégage. Sa pose est si 'moderne' que sa présence semble avoir traversé les siècles. Voici quelques vers sur Leila et Majnoun, les amants maudits dont il a écrit l'histoire:
I love the calm and strength he exudes. His pose is so 'modern' that his spirit seems to have travelled across centuries. Here are some of his verses telling the story of Layla and Majnun, the thwarted lovers:
"Every breeze that blows "Chaque brise qui souffle
brings your scent to me; m'apporte ton parfum;

Every bird that sings Chaque oiseau qui chante
calls out your name to me; appelle ton nom;

Every dream that appears Chaque rêve qui apparaît

brings your face to me; m'apporte ton visage;

Every glance at your face Chaque coup d'oeil à ton visage
has left its trace with me. a laissé sa trace en moi.

I am yours, I am yours, Je suis tien, je suis tien,

whether near or far; proche ou lointain;

Your grief is mine, all mine, Ta douleur est mienne, toute mienne,

wherever you are…" où que tu sois..."

(la traduction imparfaite est de moi)
C'est fou comme ces vers écrits au XIIe siècle n'ont pas pris une ride! Ils auraient pu être écrits par un poète contemporain.
It's fascinating how modern these XIIth century verses sound! They could have been written by a contemporary poet.
En gros, c'est un peu le Shakespeare Azerbaijan et Leila et Majnoun, son Romeo et Juliette ;-) Si ça se trouve, Shakespeare s'en est inspiré pour écrire Romeo et Juliette?
He's a little like the Azerbaijan Shakespeare, and Layla and Majnun, his Romeo and Juliet ;-) Why not even imagine that Shakespeare was inspired by them to write his Romeo and Juliet?
Pour finir sur une note plus légère, mais non moins revigorante, vous prendrez bien un cappuccino? Est-ce moi qui voit des coeurs partout?
To finish this post on a lighter but still invigorating note, how about some cappuccino? Am I the only one to see hearts everywhere?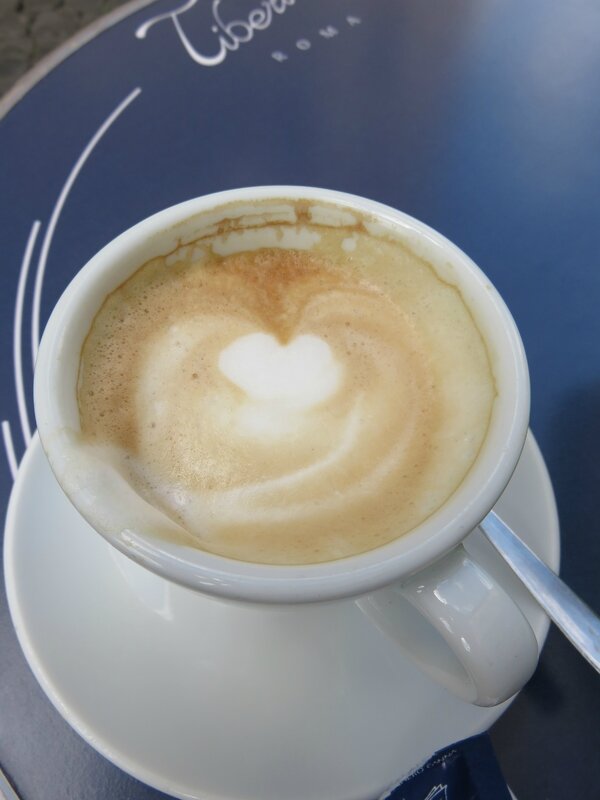 Passez une excellente journée
Have a wonderful day
EDIT: J'avais oublié de mentionner le nom de l'auteur de cette statue
I forgot to mention the name of the artist who made this statue
Sahlab Mammadov, Ali Ibadullayev